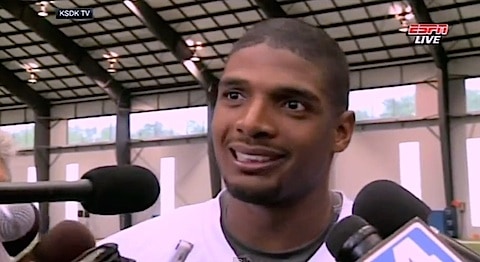 After officially signing with the Dallas Cowboys Wednesday morning and participating in a team practice that saw him receive his official team number (#46), the NFL's first openly gay player Michael Sam, who grew up in Texas, tweeted how happy and grateful he is to be a Cowboy: 
As a kid growing up in Texas I always loved the Dallas Cowboys, so to join this incredible organization is really a dream come true. (1/3)

— Michael Sam (@MichaelSamNFL) September 3, 2014
I want to thank the Jones family, the entire Cowboys organization, and the city of Dallas for giving me this opportunity. (2/3)

— Michael Sam (@MichaelSamNFL) September 3, 2014
I look forward to putting my helmet and pads on every day to work my hardest to help bring a sixth Super Bowl Championship to Dallas!! (3/3)

— Michael Sam (@MichaelSamNFL) September 3, 2014
All accounts indicate that Sam will be a particular asset to the Cowboys because of their defensive troubles in recent years.
Sam's being given a spot on the Cowboys' practice squad is no doubt historic, a fact that Cyd Zeigler from OutSports suggests is implied in Sam's new jersey number:
Michael Sam will wear No. 46 with the Dallas Cowboys. That number happens to be the year the Rams signed the NFL's first black players, Kenny Washington and Woody Strode. It's also the year Jackie Robinson and John Wright broke Major League Baseball's color barrier when they reported to the Brooklyn Dodgers' farm team, the Montreal Royals. Robinson took the field for the Dodgers the following year, in 1947.
Watch a video of  Cowboys Coach Jason Garrett speaking with reporters about Texas' newest Cowboy, AFTER THE JUMP…