Paula Overby, who is believed to be the first openly transgendered person to run for congress from Minnesota, has released a Western-themed campaign video "This Is Paula Country."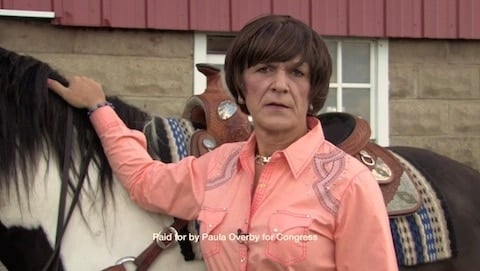 Paula Overby, who is believed to be the first openly transgender person to run for Congress from Minnesota, has released a Western-themed campaign video "This Is Paula Country."
A quality assurance analyst from Eagan, Minnesota, Overby ran uncontested for the Independence nomination in the primary on August 12, 2014.
Pulling no punches, Overby, who is running for 2nd District Minnesota, says:
"People are fed up….We need to bring back freedom, individual liberties and individual responsibilities. We need representation that represents the people.  We have one of those representatives who really is not doing very much in Washington. [Republican incumbent John Kline has] forgotten what its like to live in our district.  I think it's time to send that Representative back to Texas."
According to ontheissues.org, Kline has voted against gay employment protections, was twice in favor of amending the constitution with a gay marriage ban and has a 0 percent rating on gay issues from the Human Rights Campaign.
Take the money out of politics. Share the Message. Its FREE. https://t.co/D8oxhWuRfS

— Paula Mirare Overby (@PaulaOverby2014) September 25, 2014
Earlier this month, Bill Maher announced that he will personally target Kline for defeat this November because he has voted to repeal Obamacare fifty-four times and is against – among other things – raising the minimum wage, stem cell research, same-sex marriage and funding for climate change studies.
Watch Overby's campaign video, AFTER THE JUMP…