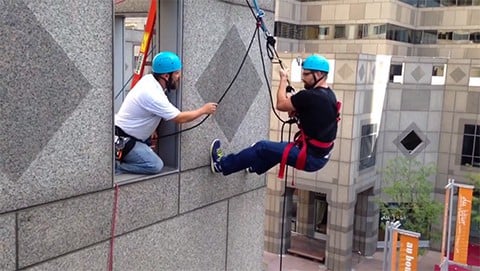 Brian Sims, the out Pennsylvania lawmaker who has been an outspoken advocate for the LGBT community, looked more like an adrenaline junkie than a state representative today as he was seen rappelling down the side of Philadelphia's Commerce Center Building in City Center. As Philly Magazine reports, Sims was practicing for an upcoming charity event on October 24 where he will rappel down Brandywine Realty Trust's One Logan Square: "He, along with a team of local LGBTers lead by Angela Giampolo, are taking on the task to raise money for The Philadelphia Outward Bound School."
Watch a video of Sims' adventure, AFTER THE JUMP…
And ICYMI, be sure to peep Sims striking a pose (in a Towleroad tee no less!) in Emil Cohen's Provincetown portraits.