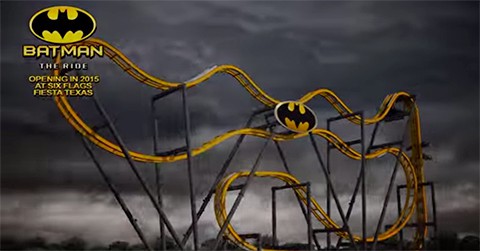 Thrill seekers will be pleased to know that Six Flags Fiesta Texas in San Antonio will be unveiling the world's first 4-D roller coaster in 2015. What exactly does that mean, you ask? KFOR reports:
The theme park described ["BATMAN: The Ride"] as the 'most exciting thrill ride' in its 22-year history.
This interactive roller coaster is aimed to make riders feel like they're flying, just like batman in Gotham City.
The world's first one-of-a-kind onboard magnetic technology features six smooth head-over-heels free-fly flips, and gives guests the feeling of weightlessness as they soar outside the confines of a traditional track.
After being lifted up 10 stories with their feet dangling, riders will then be whipped around and be flipped over and over with a tightly packed series of gravity-defying twists. 
Park president Martin Bozer adds, "The unanticipated tumbling will add even more thrills as riders travel along the dipping and swirling track."
My stomach is turning already.
Check out a concept video that demonstrates just how terrifying/thrilling the ride looks to be, AFTER THE JUMP…