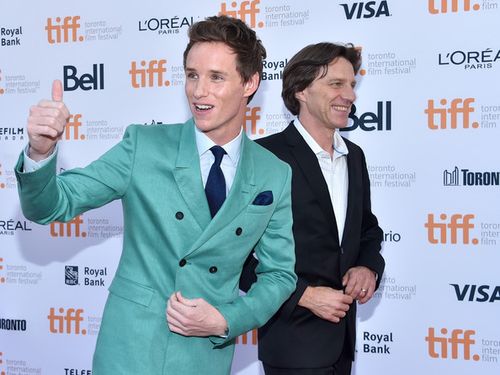 Eddie Redmayne got a huge thumbs up in Toronto. Oscar-bound?
Hello all. Just back from Canada from the Toronto International Film Festival, aka the best film festival in the world, which wrapped up on Sunday. My fellow Oscar bloggers like to shill for Telluride these days but I'm convinced it's simply Stockholm Syndrome since Telluride actually makes the press pay hundreds and hundreds of dollars for a pass for the privilege of giving them free publicity. In Toronto, if you're lucky enough to write about the movies for a living, you get your press pass for free and your only expense, other than travel and lodging (which can add up) is your time. But what person who loves movies, wouldn't want to spend that gorging on selections from all over the world, the best of Cannes and Sundance and a ton of new ones, some of them courting Oscar gold, too.
I was so giddy all week that even when I failed to spot Reese Witherspoon at her own party for WILD (she's short, y'all and thus hides easily in a crowd even in a sparkly dress) I remained elated to chat with Laura Dern (one of the greats who needs big roles again!) and wonder what possessed Chris Evans to what looked like gloriously form-fitting white longjohn shirt to a party where everyone else was in suits. I'm not complaining, I'm just saying. I was so thrilled that even the sight of Eddie Redmayne's back in his daring aquamarine suit and Andrew Garfield's giant beard at THE THEORY OF EVERYTHING party was as good as actually talking to them, but I made do with talking to Oscar-buzzing Felicity Jones who, like Redmayne, gives her best screen performance yet in that new Stephen Hawking biopic.
MORE AFTER THE JUMP..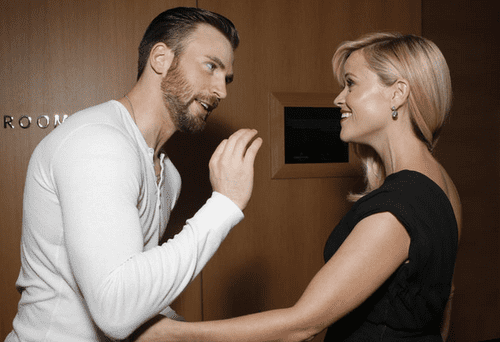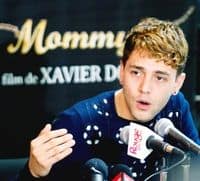 I had originally planned to do an LGBT film roundup for this space but the pickings were actually slim in that regard. (Either that or I saw the wrong movies – there are hundreds).
Even Xavier Dolan (pictured left), the gay Canadian prodigy behind I Killed My Mother, Heartbeats and Laurence Anyway (all available on Netflix Instant – so watch them!) made his least obviously gay movie with MOMMY. It's still got a queer sensibility but it's so raw and vivid and imaginatively shaped (square if you must know, but definitely not in the conventional sense) that it feels reductive to give the movie any label other than GREAT. The movie revolves around a loud vulgar single mom named "Die" and her Bad Seed teenage son just out of juvie and the temporary sanity or at least more subdued insanity they find when their relationship triangulates to include the teacher lady across the street who is on hiatus for reasons we can only assume are mental breakdown related. It will be released in the US by Roadside Attractions but surely not quickly enough.
There were endearing gay characters in both the period dramedy and Kate Winslet vehicle A LITTLE CHAOS (I know you're very surprised to hear Stanley Tucci is the gay character) and Israel's surprisingly funny THE FAREWELL PARTY about a group of senior citizens fighting for dignity in death via assisted suicide.
The gayest of the films I managed to screen though was THE NEW GIRLFRIEND a clever and sometimes surprising gender comedy from François Ozon (of Swimming Pool, 8 Women, and Potiche fame). It'll surely be offensive to some LGBT viewers since David (Romain Duris) is no trans spokesperson but a confused widower who actually possibly identifies as a woman named "Virginia" but is not remotely sure to what extent or what he's doing (yet) and is just starting to wear his dead wife's dresses. Cue the comic confusion of his dead wife's best friend Claire (Anais Demoustier) who can't get her bearings, alternating between transphobic, bicurious, and totally supportive expressions of friendship depending on her moods. I liked it but reactions seem to be mixed.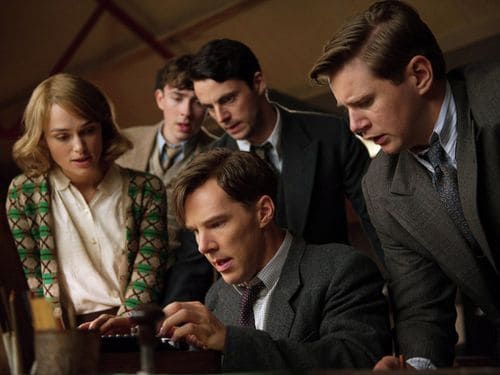 The People's Choice winner was THE IMITATION GAME a glossy Oscar-buzzing true story of Alan Turing, the gay genius mathematician who shortened World War II by at least two years by breaking the Nazi Enigma Code. The movie is a great example of quality Oscar Bait. Yes, it's pitched for prestige but it's very well made and often exciting. Benedict Cumberbatch (Best Actor nomination bound) is amazing as Turing, never pulling his punches with Turing's off-putting superiority but also displaying his vulnerability, particularly through his relationship with fellow codebreaker and girlfriend of sorts Joan Clarke (Keira Knightley) who is willing to overlook the gayness. The movie is split into three time periods in which we meet Alan at boarding school when he's first crushing on a boy, Alan recruited by the British government for the top secret Enigma Code mission, and Alan after the war, his war heroics still a secret, persecuted by the government he helped save for the crime of being gay.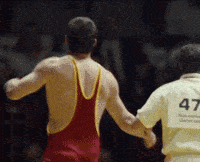 The Imitation Game's most obvious Oscary counterpart at the festival was The Theory of Everything, a resolutely heteronormative movie that nevertheless shows quite a lot of impressive nonjudgmental verve when looking at the Hawking marriage and the way people deal with difficult but loving unions and uniquely challenging circumstances. But the Oscar bound movie I loved most was Jean-Marc Vallée's Dallas Buyers Club follow-up Wild with Reese Witherspoon hiking across the Pacific Crest Trail. Yes, that surprised me too. My biggest disappointment was FOXCATCHER, also Oscar buzzing, but aside from its numerous Channing Tatum pleasures and he and Mark Ruffalo's astounding performances as Olympic wrestling brothers, I had trouble connecting to it.
One more Oscar note to wrap with: Julianne Moore was the (re)discovery of the festival with her star turn in STILL ALICE as a 50 year old who discovers she has early onset Alzheimer's. The film is based on the best seller of the same name and is written and co-directed by life and creative partners Richard Glatzer (who directed the gay film Grief in the 90s with Craig Chester, Alexis Arquette and Jackie Beat – remember that one?) and Wash Westmoreland, who have made three previous films together: the gay porn comedy The Fluffer, the latin drama Quinceañera, and the Erroll Flynn sex scandal The Last of Robin Hood. Still Alice. Their fourth will surely be a breakthrough for them in release; Sony Pictures Classics snapped it up presumably to mount an Oscar campaign for Julianne Moore who will almost certainly win her 5th nomination after that long post Far From Heaven draught.
But can this glorious ginger and gay favorite finally win the gold?
Nathaniel Rogers would live in the movie theater but for the poor internet reception. He blogs daily at the Film Experience. Follow him on Twitter @nathanielr.