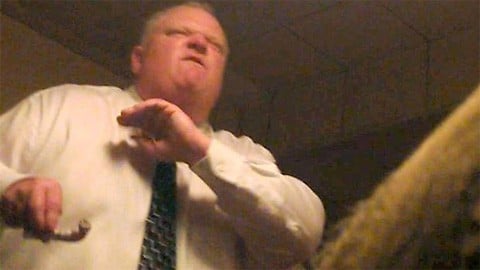 Cantankerous, crack-smoking, homophobic Toronto Mayor Rob Ford has announced that he is withdrawing from his bid for re-election, a decision coming two days after Ford was hospitalized for an abdominal tumor, CNN reports:
"My heart is heavy when I tell you that I'm unable to continue my campaign for re-election as your mayor," he said in a statement Friday.
"People know me as a guy who faces things head on and never gives up, and as your mayor I have done just that," Ford said. He added, "Now I could be facing a battle of my lifetime, and I want the people of Toronto to know that I intend to face this challenge head on, and win."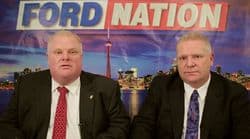 The Associated Press adds that Rob and his city councilor brother Doug are attempting to do a job-swap of sorts – with Rob instead seeking a seat on the City Council while Doug runs for mayor in his place.
''I have asked Doug to run to become the next Mayor of Toronto, because we need him. We cannot go backwards,'' Ford said.
Check out a video interview of people on the streets of Toronto reacting to the news AFTER THE JUMP – with the consensus being that Doug would make a just as bad, if not worse mayor than Rob.