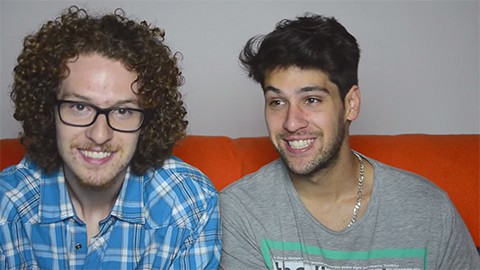 Adam and Luke Monastero are fraternal twins. They are 21 and recently came out to each other. As neither of them were out to their parents, the guys decided the best thing was to come out to Mom and Dad together. The pair recorded a diary room style video before and after sharing the big news. They also secretly recorded the coming out itself including their parents' reactions. As Adam and Luke sit Mom and Dad down, Adam warns his parents that he and Luke have some "shocking news" for them. But as E! Online points out, the parents' response is nothing but supportive:
"You know what? It's ultimately your life," their mother said…
Luke explained he was afraid their sexual orientation would drive a wedge within their extended family, to which mama bear responded, "Well, you know what, Luke? If it does, hon, that's their choice. It cannot be your worry or your burden. You can't live your life for someone else…I'm just so glad you're not keeping it from us anymore."
Watch as the boys open up to their folks and later bask in the freedom of being out and proud, AFTER THE JUMP…