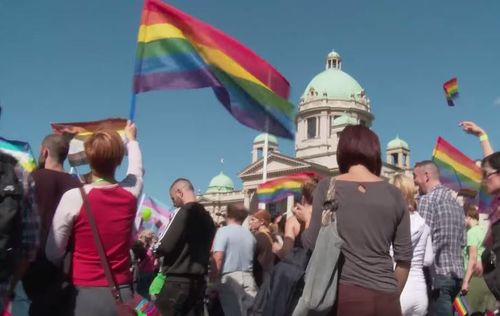 Serbia's embattled gay community, which last month held its first pride parade in four years (government officials had cancelled subsequent parades citing security risks), is the subject of a new Vice News report featuring both parade-goers and the country's right-wing, religious-led efforts to try and stop September's parade from happening.
The arguments made by anti-LGBT protesters featured in the video would honestly be laughable if they weren't so disturbing. One protester claims the government is allowing the parade to happen "so that the American porn industry can film their porn films on all of our main squares" while another says the government has "reduced our wages and pensions" in order to pay for the parade. Interspersed between these absurd claims are clips showing the anti-gay mob chanting "kill, kill kill the fa**ots." Unsettling stuff to be sure. 
The country's resilient LGBT community didn't let the hate stop them this year, but the video makes it clear there is much work to be done in terms of educating the public about LGBT issues and eliminating homophobia.
Watch, AFTER THE JUMP…