Actor and now author Alan Cumming sits down with Kevin Sessums at FourTwoNine magazine to talk about his new memoir Not My Father's Son and the abuse he and his family endured at the hands of his late father, and how they continue to push through it.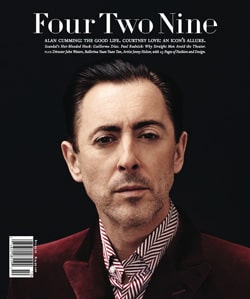 Says Cumming of the book:
In the course of documenting it all and writing it down, I realized that what is really weird about abuse in any form is that for the abuser and the person who is abused, the more it goes on–the more it goes unchecked and is not commented on or dealt with–it becomes regular. It becomes normal. It becomes acceptable. So what I am doing with my story is that by putting it out into the world, it will never be acceptable. People will be reading it and going, "My God," and maybe some people will realize that their own abuse in their own lives is not acceptable either.
Cumming also talks about being an anti-circumcision advocate:
I mean, you lose sensation there if you're circumcised. From my point of view as a sexual and sensual person, the idea that you would hack away at that and lose sensitivity and nerve endings on the most pleasurable and sensitive part of your body is terrible.
And a bisexual:
As for choice, I have no choice but to be bisexual. But in America, especially, everything has to be black and white. Even when you say you've watched a movie, people ask you what it's about. I always go, well, why don't you watch it and see? Everyone wants to know everything ahead of time. People are afraid of the unknown, so there is an element of that which goes into this sexuality question because people are freaked out if they can't put you in a box. And even when they put you in the bisexual box–if you are living with a man–it doesn't make sense to them.
Check out Cumming's full interview at FourTwoNine in which he also discusses open relationships, being a "freak", and his longtime role in Cabaret.