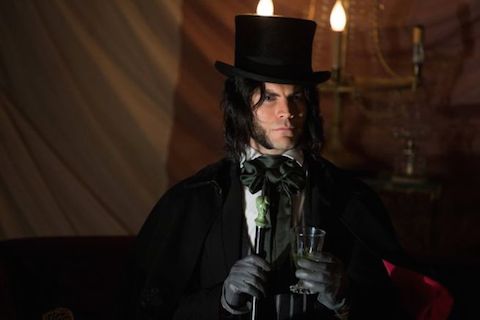 In previous installments of American Horror Story, the Halloween episodes were some of the best offerings. But tonight's first half of this year's Halloween two-parter left a lot to be desired. For one, it lacked any real scares. Even our murder clown failed to do much murdering or clowning.
And the new monster introduced this evening, Edward Mordrake (Wes Bentley), was more Katie Couric than Freddy Krueger. Unless you have a fear of intimate conversation, he didn't really come off as much of a threat.
One thing that is becoming clear this season, however, is that the best thing about Freak Show may be Finn Wittrock. As Dandy Mott, he's the least predictable of the bunch. Even at his most subdued, he can make viewers profoundly uncomfortable, but when his tantrums reach a fevered pitch, Wittrock really lets loose. I'd happily watch an hour of just him, his mother (Frances Conroy) and Patti LaBelle in a Woody Woodpecker costume. Here's hoping he returns next season.
Get on your Howdy Doody costume, and let's discuss Mordrake, Mott and all our favorite freaks, AFTER THE JUMP …
Over at the American Morbidity Museum, a professor (Denis O'Hare) and his protege, Maggie Esmerelda (Emma Roberts), are very eager to sell their genuine sasquatch fetus. Of course, the experts at the museum know better. That's not 'squatch, that's a goat fetus with a cat jaw sewn onto it, which, really, is a pretty poor way to fake a Sas.
Their jigs very much up, the eager museum docent takes them aside to explain that, yes, they did kind of sort of make a mockery of this fine institution, but they seem like the motivated, go-getter types, so she lets them in on a little secret. She doesn't care how they come across a genuine artifact of curiosity, but if they can find the real deal, it could fetch a pretty penny. Don't know where to find one? Try Florida. Other than Coney Island, it's one of the last freak shows standing. Thanks for the handy tip, docent lady! Keep at it and you might aspire to grifterdom one of these days, too. Dream big!
And with that, the two grifters are off with dollar signs in their eyes.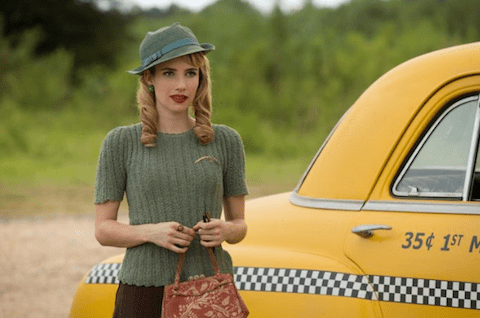 Esmerelda shows up at Fraulein Elsa's and tells Jimmy (Evan Peters) that she's a fortune teller here for a job. He doesn't take much convincing, but Elsa (Jessica Lange) knows better. She can't trust a handsome young man to accurately assess a comely young girl (especially with that pesky Taissa Farmiga out of the picture). So she sets up a little audition for the alleged psychic.
Somehow, despite her years of palling around with carnival folks, Elsa doesn't realize Esmerelda (a very real sounding name for a psychic) is doing a quick read for clues in her room where she spots some photos of Marlene Dietrich and sheet music. "Fading starlet, looking to regain her fame," Esmerelda probably thinks. She gives Elsa a perfect custom reading, telling her that she can reclaim her fame with the help of a handsome stranger and her guidance, of course. It was like when one of the Real Housewives meets with their energists, or whatever. Elsa is enthralled. She's hired!
That's great news for Esmerelda, who phones her partner, Stanley, to tell him the good news. And did she mention there are live conjoined twins here, too? He's real excited about that, since overly informative docent lady told them a conjoined twins' liver alone was worth $5,000. Esmerelda seems less convinced about the whole murder component of this plan, but there's no time to talk about that. Stanley's got a very sexy gentleman caller waiting dressed all up like Thor.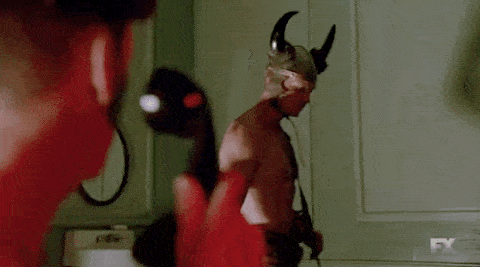 We see Sexy Thor's reaction when he slips off Stanley's pants, but what's the sitch down there? Is he surprised by the size? girth? curve? Could it be something even more dramatic, like the dude from reddit with two penises. (I actually bet it is two penises, because the timing when that story broke and the production of this season would align, and it also seems like the kind of thing Ryan Murphy would write into a project. Ripped from the headlines! Or whatever!)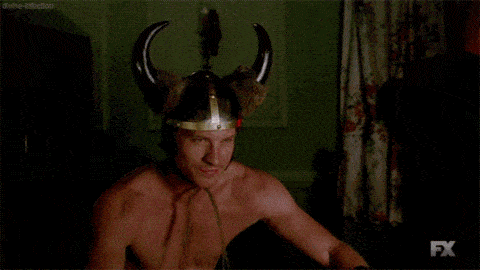 Not everyone on the grounds is feeling as excited as Elsa. Ethel (Kathy Bates), for example, is feeling a little low. In a very touching scene, her doctor tells her that her cirrhotic liver has given her about six months to a year left to live. Tears stream down into her beard. Not because she's dying, but because he's "the first doctor ever to treat me with respect."
Respect is exactly what Dell Toledo (Michael Chiklis) is looking for as well. His wife, Desiree Dupree (Angela Bassett), tried to spice things with a little handy action, but Dell has a little problem getting his little freak flag to fly at full mast. When Desiree calls him on it, he grabs her, hard, and throws her up against the wall. But, Ms. Dupree is not one to be messed with, and she reminds him that if he doesn't respect her, she'll be gone. Advantage, Desiree.
Now feeling doubly emasculated, Dell storms out to find Ethel doing what most women with terminal illnesses do on television: staring out over the horizon and reflecting on her life. Of course, she's doing this on the outskirts of the carnival grounds while drinking hooch, but you get the point. Anyway, she catches angry Dell and asks him if he ever really loved her. He claims not to, but he does wish he was a better father. She asks him again to never, ever tell Jimmy he's his father, and Dell's all YES, I GET IT LADY.
Elsewhere, the performers held a small funeral for Meep, complete with chicken heads thrown into the grave. R.I.P., Meep.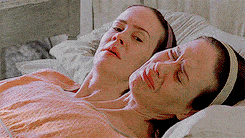 Dot and Bette (Sarah Paulson) are having themselves a bit of a siesta. As they sleep, they dream a little dream. For Dot, it's a lovely nap dream about cutting Bette's head off, so she can live her life as one person. One person with talent and with a man who wants to have babies with her. Of course, as they say, one conjoined twin's dream is another conjoined twin's nightmare, so in this scenario, Bette doesn't quite make it out alive. Bette wakes up shaken by the whole thing, and even more upset about her sister's enthusiasm over her possible death. After all, Dot did already try to kill her once. Not cool, Dot. Bette (the one who actually did already kill someone) swears she would be so, so sad if she killed Dot.
They don't have time to squabble. They've got to rehearse. Their first problem is that the rest of the performers refuse to play along. It's Halloween, and that means any freak who performs risks a visit from Edward Mordrake (Bentley). Ethel drunkenly recounts the carnie legend for the twins. In a nutshell, Mordrake was a fancy fancy boy with a second, evil face on the back of his head that drove him crazy by constantly whispering a bunch of horrible things. One Halloween, on a night just like this, while working on a freak show just like this one, he snapped and killed everyone and then hanged himself. They say his weird back face was still smiling, even after he died. Now, the story goes, that any freak that performs on Halloween will get visited by Mordrake, and he'll take someone back to hell with him. Ethel knows it! When she performed one Halloween in the '30s, the next morning they found the human cannonball hanged and smiling.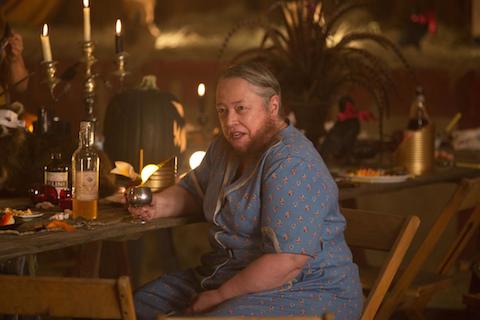 Whatever, MOM, Jimmy snarls. And so Dot and Bette are unswayed, attempting to rehearse anyway. But, with a confidence boost from her psychic friend, Elsa attempts to usurp their practice time. Dot tries to remind Elsa that they are the real stars and should rehearse, but, silly Dot, you do not try to outshine the Fraulein. Elsa demands they go, forces the other performers to back her up, and then launches into a cover of Lana Del Rey's "Gods & Monsters." On a cloud of green mist, Mordrake arrives. Elsa thinks it's her handsome benefactor, but once she finishes the song, he leaves without spinning around his big, red chair or making a bitchy Simon Cowell comment about song choice or using the Tim Gunn save or anything like that.
Instead, he POOFS! over to Ethel's trailer for an emotional one-on-one interview about her past. It's one "If you were a twee, what kind of twee would you be?" shy of a Barbara Walters-style sitdown. She weepily recounts how she was a successful performer in her heyday, but Dell convinced her that what people really wanted to see was a bearded lady reading Shakespeare? Huh? How did that even remotely seem like a good idea? With THAT accent? Obviously, it was a flop. That's not the depth of her despair though. To make ends meet, Dell sold tickets to Jimmy's birth, and, once he was fresh out the womb, charged onlookers to hold the freak baby. Ethel's ashamed of how Jimmy's been exploited literally since birth.
Mordrake, however, is moved. Even his little demon backward face declares her not thoroughly freak enough to drag back to circus hell, or wherever they're going.
If he's looking for a real monster, he might want to look at the clowns. Let's start with Twisty (John Carroll Lynch), who has taken his little show on the road. While curfew has put a damper on trick or treating in Jupiter, Florida, all the kids have headed over to West Palm Beach. He's watching a little girl dressed as a fairy who, unfortunately for her, has a crippling fear of clowns. Her jerk older brother dressed as a clown just to antagonize her. Poor thing. When they get home, Twisty's there to kidnap the older bro, but he leaves the little girl unscathed (physically, at least).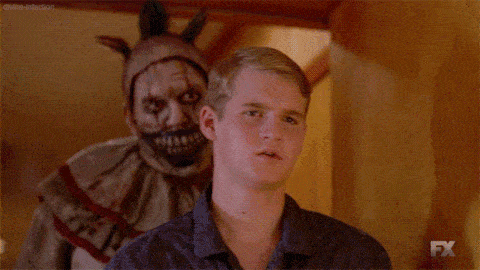 And what of our friend Dandy (Wittrock)? His mother (Conroy) is still trying to cheer him up with a custom costume and dressing up Dora the maid (LaBelle). When he opens up his costume, he's furious it's Howdy Doody-themed. He hates them! (Two-faced ghost reapers? Sure, I'll buy that. But I cannot suspend my disbelief enough to accept that anyone could hate LaBelle dressed as Woody Woodpecker.) Anyway, Dandy marches upstairs, fashions himself a quick clown costume (way to make it work!), and then heads down to scare Dora. But Dora is not afraid of you, young man. She knows you're crazy, but you won't kill her. Go on, she dares you! He raises a knife up to threaten her, but he can't follow through. Do not step to Patti LaBelle. (Just ask Diana Ross.)
Instead, he traipses over to Twisty's trailer where he's just about to poke the prisoners with a little knife on a stick when the murder clown shows up with his latest victim. "More fun!" Dandy exclaims.
Next week, Mordrake continues his search for a freak to add to his collection and our third kidnapping victim adjusts to life in the clown trailer.
What did you think of the episode? Who do you think Mordrake will claim?