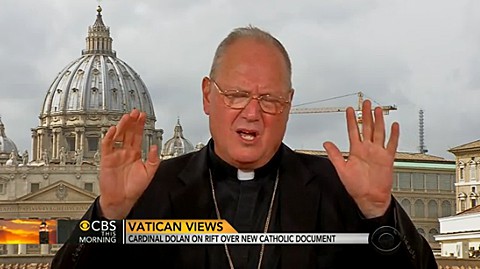 NYC Archbishop Cardinal Timothy Dolan, spoke to CBS This Morning about the Vatican document released Monday that appeared to show a marked change in the Catholic Church's attitude toward gay people. The document caused such a stir that yesterday Catholic leaders backtracked, calling it a "working document," a sentiment echoed by Dolan in his interview Wednesday morning.
The document "needs some major reworking," Dolan said.
Added Dolan:
"All of this is almost like antipasto to help the holy father arrive at a fresh new way to teach the timeless teaching on marriage and family…I know there is remarkable unanimity and enthusiasm in backing the holy father's attempt to present the teachings of the church in fresh, exciting and engaging new ways, but there might be some good, deep discussion on the way that is being expressed."
Watch Dolan's interview, AFTER THE JUMP…
Dolan, who claims to not be "anti-anybody", has equated same-sex marriage to incest, denied LGBT Catholics entry to mass, and insisted LGBT individuals are entitled to friendship, not marriage. In 2012 he vehemently opposed same-sex marriage legislation in New York state, calling it a "communist threat" and has since complained that he felt burned by lawmakers. In May Dolan issued a memo to LGBT Catholics urging them to "pray, fast, and sacrifice" over the Supreme Court's upcoming decisions on marriage.
Last December Dolan said the Church had been "out-marketed" in its fight against gay marriage and in March he said that Pope Francis is not for civil unions and that the thought made him uncomfortable.