Downton Abbey creator Julian Fellowes has revealed that gay character Thomas Barrow will seek a "cure" for his sexuality in the upcoming fifth season of the show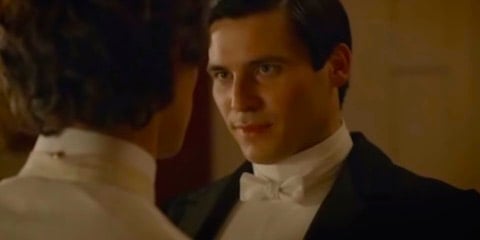 Itching to know what awaits Downton Abbey's sometimes villainous but almost always tortured gay character Thomas Barrow on the forthcoming season of the popular costume drama? Show creator Julian Fellowes recently revealed one plot twist in store for handsome Thomas that may put you in a tizzy. Find out more, AFTER THE JUMP... (WARNING: SPOILERS AHEAD!)
Downton Abbey creator Julian Fellowes has revealed that gay character Thomas Barrow will seek a "cure" for his sexuality in the upcoming fifth season of the show, reports Gay Star News.
In an interview with British TV channel ITV, Fellowes said:
"He falls for the quackery that this can be cured, that he can get rid of this dumbbell he is dragging around with him. His fortitude takes him through a period of incredible physical discomfort. The result he seeks is impossible – it's not to be obtained by any medical treatment, it was just quackery."
Rob James-Collier said of his character Barrow:
"He wants to be able to love, so he embarks on quite a dark and serious journey rooted in his sexuality to try and change how he is. I really wanted to get down to why Thomas was how he is. For me, I made the choice it was his sexuality. You wake up every morning and your religion is telling you you're condemned. I wouldn't be surprised if a lot of men like Thomas did do this, because what was the alternative? There wasn't one."
James-Collier, who was featured in our 10 LGBT TV Moments from 2013, has previously said he finds it easier kissing men on-screen than women.
Watch a preview of Downton Abbey below.