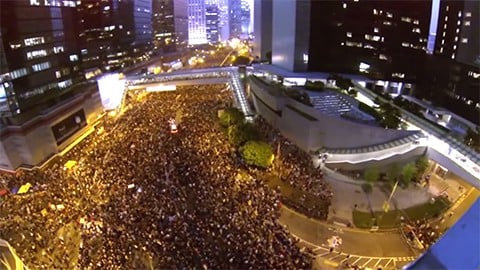 Yesterday, we brought you news of the burgeoning Umbrella Revolution in Hong Kong, so named because of the umbrellas used by pro-democracy protesters to ward off the tear gas being used by riot police. Even as government officials shut down Instagram throughout the country–which was being used to disseminate images of anti-government insubordination–protesters continued to flood the streets in Hong Kong, refusing to back down.
Global Post's Timothy McGrath sums up the unrest:
Tens of thousands of protesters have taken to the streets in Hong Kong in an outpouring of frustration over politics and representation. Under Hong Kong's present electoral system, citizens don't elect their own leaders. Instead, they're appointed by a Beijing-friendly electoral committee. That will change — sort of, but not really — in 2017, when Hong Kong citizens will get to choose from among two or three candidates pre-selected by a Beijing nominating committee.
Protesters call the new electoral system "fake democracy." 
Check out a stunning video filmed by a drone showing the thousands of protesters who took to the streets on Monday, AFTER THE JUMP…