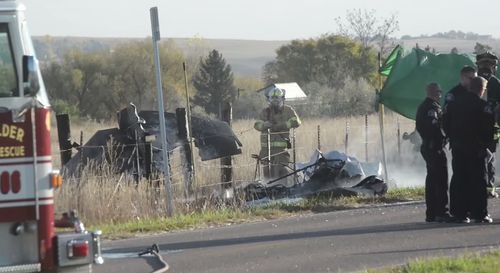 A single-engine plane crashed at 7:40am on Tuesday just after taking off at Boulder Municipal Airport. The lone casualty was Steven Moore, executive director of the National Gay Pilots Association. The organization's board chair confirmed it was in fact Moore in a Facebook post. 
The Daily Camera reports:
"It is with greatest sadness that we must announce the loss of a treasured member of our NGPA family," board chair Scott Shatzer wrote on the post. "Our executive director, and valiant crusader for the NGPA cause, Steven Moore, passed away this morning while flying his beloved Mooney in Colorado. Steven, we love you, we will miss you, and we will be forever indebted to you for all of the passion you put into your work with NGPA."
There were no eye witnesses, though officials stated that the plane hit the road where it crashed propeller first and then caught fire. One man, Jeff Slater, reportedly heard the plane as it took off:
He told the Daily Camera that the plane "didn't sound right" when it took off.
"It was choking and sputtering pretty bad," he said. "It sounded horrible."
Our heart goes out to Moore's family and the members of the NGPA. The organization plans to honor Moore with a photo and short story collage in the winter edition of their publication.
Watch Slater's report from the scene, AFTER THE JUMP…