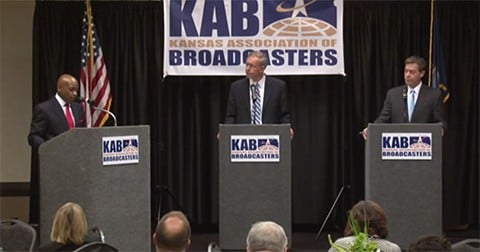 Kansas Governor Sam Brownback and his Democratic challenger Paul Davis sparred on Monday night over the issue of gay marriage. Following the Supreme Court's decision to let stand a 10th Circuit ruling invalidating bans on same-sex marriage, a ruling that effects Kansas as the Sunflower State is under the 10th Circuit's jurisdiction, a judge ordered county clerks to begin issuing marriage licenses to same-sex couples seeking them. However, that order was put on hold by the state's Supreme Court. With a hearing scheduled for November 6, the fate of the state's 2005 voter-approved marriage ban hangs in the balance. As Talking Points Memo reports, Davis commented that "there is nothing he can do with regards to gay marriage" while Brownback attacked him for not being willing to defend the ban:
Davis was a lawmaker when the Legislature debated [the marriage ban], and he said Monday that he did not support the constitutional amendment because he believed it would have an adverse effect on the welcoming image the state has had for decades. But he added that the people of Kansas decided by a significant majority to put the prohibition in the constitution, and he respects that decision.
"The fact of the matter is that at this particular time there is nothing I can do, there is nothing Gov. Brownback can do to impact this issue," Davis said. "It is in the court system."
Brownback noted that 70 percent of Kansans voted for the amendment.
"There is something that Rep. Davis and I can do on this and that is as governor defend our constitution, and he is not even saying whether he would defend our constitution where our people have voted on this issue," Brownback said.
Brownback also held a rally Monday against gay marriage.
The pair met again Tuesday night for a second debate and again the question of marriage equality arose, with each candidate taking similar postures. 
Watch the second debate for yourself (where the subject of marriage comes up at about the 31:30 mark), AFTER THE JUMP…