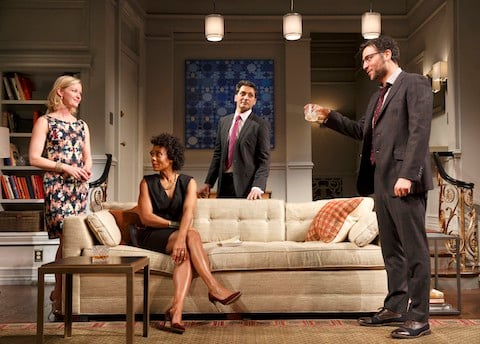 BY NAVEEN KUMAR
There is a chilling, heart-stopping moment at the height of Disgraced, Ayad Akhtar's sharp and engrossing Pulitzer Prize-winning play, which opened on Broadway last night at the Lyceum Theatre. Once you recover from the shock of it, you'll wonder how you allowed yourself to be so caught off guard.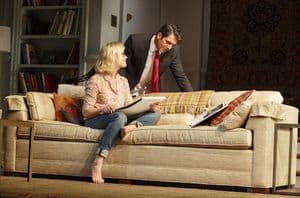 Maybe you were busy admiring the seductive surfaces of director Kimberly Senior's sleek, vivid production, getting wrapped up in the lives of the über smart, affluent and self-possessed thirty-somethings onstage, who seem to embody every astute, aspiring young person's idea of That Perfect New York Life.
Amir (Hari Dhillon), a dapper corporate lawyer and second-generation Pakistani immigrant, and his wife Emily (Gretchen Mol), a thoughtful, blossoming visual artist, share an enviable, impeccably modern Manhattan apartment and cut a prime yet casual example of cross-cultural harmony. While Emily mines Islamic forms and aesthetic ideals in her latest work, Amir is a self-professed and often vocal apostate to Islam.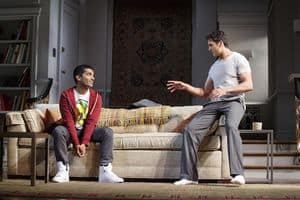 The drama begins when Amir's nephew Abe (Danny Ashok) asks him to offer legal counsel to an imam imprisoned (falsely, Abe believes) on suspicion of funding Hamas. Amir strongly resists stepping in, while Emily urges him to help. Fast-forward several weeks when Emily has a shot at being included in a show at the Whitney. The curator Isaac (Josh Radnor), husband to a close colleague of Amir's, Jory (Karen Pittman), visits to view Emily's work. Jump ahead another few months to find the four friends gathering for an intimate dinner party.
Akhtar's drama unspools a number of distinct threads that come together only in its explosive, compelling climax. Above all, it's a play about ideas and appearances—intelligent, grounded people who think they know who they are and what they believe, until they don't. The play raises provocative questions—about identity, race, faith, art, love and at times, the whole of human history. This is, of course, no small feat in 90 minutes and could easily go down like a giant pill.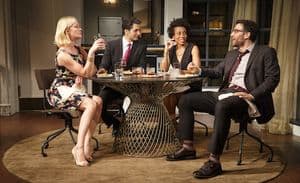 But Akhtar's characters are people you want to know, and uniformly excellent performances from the cast make you feel as though you already do. The heady and pressing questions that arise are firmly grounded in the very human and messy drama unfolded onstage. That they come from the mouths of characters so convincingly rendered makes them all the more haunting.
Senior, who also directed the play's Off-Broadway premiere at Lincoln Center Theatre in 2012, does fine work balancing the Akhtar's litany of nuanced perspectives on hot-button issues. For a drama so much about visual surfaces, the production's design adds rich texture to the story, including the set by John Lee Beatty, costumes by Jennifer Von Mayrhauser and lighting by Kenneth Posner. 
In the time between the play's first production and its Broadway premiere, the context in which we hear and understand its core dilemma has changed dramatically, with renewed violence in the Middle East and racial tensions at home. Akhtar's drama certainly doesn't have the answers, but it asks the poignant questions.
Recent theatre reviews…
Matthew Broderick, Nathan Lane and Stockard Channing Open in 'It's Only a Play' on Broadway: REVIEW
'The Curious Incident of the Dog in the Night-Time' Opens on Broadway: REVIEW
Political Sex Scandal Comedy 'Tail! Spin!' Opens Off Broadway: REVIEW
James Earl Jones and Rose Byrne Open in 'You Can't Take It With You' on Broadway: REVIEW
Mia Farrow and Brian Dennehy Open 'Love Letters' on Broadway: REVIEW

Follow Naveen Kumar on Twitter: @Mr_NaveenKumar (photos: joan marcus)