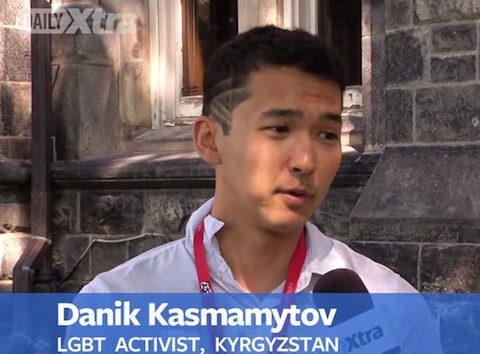 Kyrgyzstan, an ex-Soviet nation in Central Asia that is home to nearly 6 million people, is becoming a new flashpoint for LGBT rights internationally.
On Wednesday, lawmakers in Kyrgyzstan advanced anti-gay "propaganda" legislation that is said to be even worse than Russia's 2013 law.
The legislation in Kyrgyzstan would punish "propaganda of non-traditional sexual orientation" with jail terms of up to a year. Kyrgyzstan's parliament approved the bill on second reading in a 90-2 vote. It must pass a third and final time in October before proceeding to President Almazbek Atambayev's desk.
From the Human Rights Campaign:
Proposed over a year ago, this legislation emulates Russia's anti-LGBT "propaganda" law.  However, Kyrgyzstan's version mandates even harsher punishments, including jail time, for expressing sentiments that could "create a positive attitude to unconventional sexual orientation."  This law solidifies the ongoing harassment and violence waged against LGBT Kyrgyz.

"A law that forces LGBT Kyrgyz to live in fear while denying them the rights of free speech and assembly is dangerous," said HRC Global Director Ty Cobb. "These types of laws and the rhetoric surrounding them only empower bigots who seek to harm LGBT people." …

"It's terrifying to see Kyrgyzstan following in the footsteps of Russia," said Cobb.  "The United States and international observers must not look the other way while LGBT people in Eurasia are being dangerously marginalized with new laws that replicate the ill-advised policies of President Putin."

"This is a critical moment for Kyrgyzstan. We, LGBTI activists in Kyrgyzstan, call on the international community to react swiftly. We are running out of time." said Kyrgyz LGBT activist Dastan Kasmamytov (above).
According to Human Rights Watch, the bill violates fundamental rights protected by both Kyrgyzstan's constitution and international law.
Its aim is to ban the dissemination of any information promoting "non-traditional sexual relations" or "homosexual lifestyles" in a "positive" way. It would apply to the press, television, radio, and the Internet, as well as to public assemblies – a clear violation of freedom of expression. …

Given its vague wording, the bill could be used against a wide range of individuals and groups whose work involves or is directed at sexual health or at sexual and gender minorities in Kyrgyzstan. …

Those at risk of being targeted include groups working on HIV prevention; right to health and delivery of healthcare services; lesbian, gay, bisexual, and transgender (LGBT) issues and human rights; and journalists.
The bill's advance follows a horrific attack against LGBT activists in Kyrgyzstan last month on the International Day Against Homophobia and Transphobia. Prior to that, Kyrgyzstan Parliament member Narynbek Maldobaev called for the extermination of all homosexuals.
Watch a report on gay rights in Kyrgyzstan below.