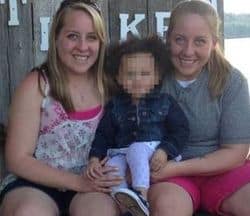 Jennifer Cramblett and Amanda Zinkon, a lesbian couple living in Uniontown Ohio, are suing the Midwestern Sperm Bank, after one of the women unbeknowingly gave birth to an interracial baby.
According to documents provided by the sperm bank operating in Downers Grove the couple initially requested genetic specimen from donor No. 380, a white man, to conceive their child. Ultimately the women mistakenly received specimen from donor No. 330, a black man. By the time the lab's error had been caught Cramblett was already pregnant.
"On August 21, 2012, Jennifer gave birth to Payton, a beautiful, obviously mixed-race baby girl," the recently filed lawsuit reads. "Jennifer bonded with Payton easily and she and Amanda love her very much. Even so, Jennifer lives each day with fears, anxieties and uncertainty about her future and Payton's future."
Though the Midwestern Sperm Bank refunded the couple and issued a written apology upon being made aware of their mistake, Cramblett is suing claiming wrongful birth and breach of warranty. Additionally she is seeking damages for the economic impact that her particular situation is having on her's and her child's lives.
The community in Uniontown that Cramblett and Zinkon have been raising their child, the lawsuit explains, is sorely lacking in racial diversity. Cramblett expressed that her own family errs on the side of racial intolerance and bigotry much in the same way that most of Uniontown does. Cramblett's therapist has strongly advised her to move out of the town before Payton, who is now two, is old enough to be enrolled in the school system.
"Though compelled to repress her individuality amongst family members, Payton's differences are irrepressible, and Jennifer does not want Payton to feel stigmatized or unrecognized due simply to the circumstances of her birth. Jennifer's stress and anxiety intensify when she envisions Payton entering an all-white school."