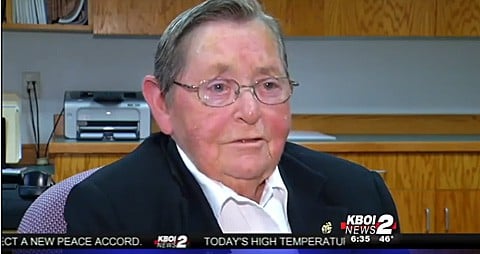 Madelynn Taylor, a 74-year-old U.S. Navy veteran from Boise who has been battling for the right to be buried beside her late wife Jean Mixner in the Idaho Veterans Cemetery, has won her fight, NCLR reports:
Idaho officials agreed to Taylor's request following the National Center for Lesbian Rights' (NCLR) recent victory in the U.S. Court of Appeals for the Ninth Circuit, which found that Idaho's ban on marriage equality violated the U.S. Constitution. The court ordered marriages to begin on October 15, 2014, and directed the state to recognize the marriages of couples who married in other states.
Taylor served in the Navy from 1958 to 1964. In late 2013, Idaho officials denied Taylor's request to be buried in the Idaho State Veterans Cemetery together with her late wife, citing Idaho's laws prohibiting marriage by same-sex couples. NCLR and Boise attorneys Deborah A. Ferguson and Craig Durham of Ferguson Durham PLLC filed a lawsuit on Taylor's behalf, challenging the exclusion as a violation of the due process and equal protection guarantees of the U.S. Constitution.
"Words can't describe how incredibly grateful I am for all the work that went into making our wishes possible," said Taylor. "Idaho is where some of our best memories together are and it's where I want to spend eternity with Jean."
Said Ferguson: "Lee deserves credit for shining a powerful light on the injustice and indignity caused by Idaho's former exclusion of same-sex couples from marriage. Her persistence, visibility, and refusal to accept inequality are a model for us all."
Taylor's story, as you may recall, inspired a fellow veteran named Barry Johnson to offer his burial plot to her when he heard of the disgusting discrimination and injustice she faced.
Watch a video on Taylor's battle, AFTER THE JUMP…