A stage play about the life of gay Welsh rugby star Gareth Thomas is in development, Wales Online reports: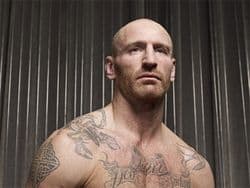 A joint production between National Theatre Wales and Out of Joint, it tells the story of the former Wales rugby captain who came out as gay five years ago.
Alfie has been involved in the production, which is described as telling "a great Welsh story about sport, politics, secrets, life and learning to be yourself."
Full details about the show's tour, and its cast, are to be announced in the new year.
Writer Robin Soans is known for his documentary verbatim plays based on interviews with real people, and it is being directed by Max Stafford-Clark.
The announcement said: "This is the story of two Welsh names bruised, but not beaten, by media speculation; Gareth "Alfie" Thomas, 100 caps for Wales, once its captain, now the world's most prominent gay sportsman; and his hometown, Bridgend."
National Theatre Wales' artistic director John McGrath said: "National Theatre Wales has always set out to tell great Welsh stories, and they don't come much greater than this. Gareth Thomas is a hero to thousands of people, and his journey from world-class rugby player to world-class gay rights campaigner is extraordinary.
An upcoming movie about Thomas stars Mickey Rourke. Over the summer Rourke told Jimmy Kimmel about a scene in which he shares a bath with another man:
"There's a scene where I'm in the tub with another guy and I remove my teeth at the front and put them on the edge of the bath – you know, before we get it on."