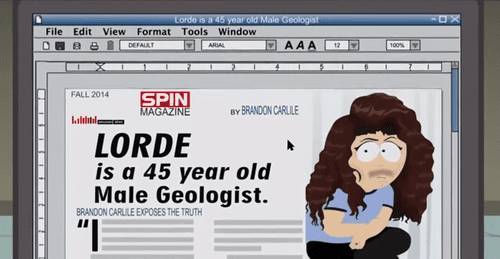 Trey Parker and Matt Stone set their satirical sights on "Yellow Flicker Beat" singer Lorde in the most recent episode of South Park. While last week's central plot focused on Eric Cartman feigning being transgender in order to gain access to a private bathroom, the episode's subplot exposed Lorde's secret identity as a middle-aged married man.
To her credit the 17-year old New Zealander took the ribbing in stride, admitting that while she didn't regularly watch the show, she was honored to have been featured. The singer also sang a brief snippet of the episode's running joke–that the basis of most of her songs is the simple phrase "I am Lorde. Ya, ya, ya."
"i have officially been the subject of two South Park episodes and that is weird and cool," she tweeted out in response to the internet's swift pickup of the episode. "i don't actually watch south park but from what i can tell sia was involved and someone's mum said something really nice about me.. score!"
Throughout the episode Lorde, whom we learn is actually Stan Marsh's father (Randy) in drag and is working on track entitled "Feeling Good On A Wednesday." Meant to be a spoof of Lorde's "Royals," the parody sounds a lot more like Sia covering early Mandy Moore. The "Chandelier" singer has neither confirmed nor denied her involvement in the show, but the vocals are fairly unmistakable.
Listen to Sia sing as Randy Marsh singing as Lorde AFTER THE JUMP…