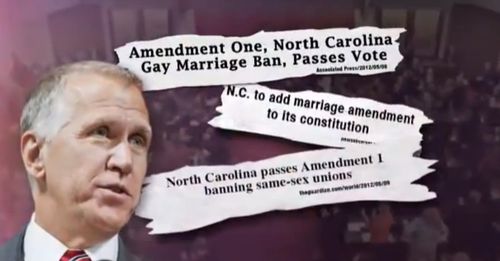 The National Organization for Marriage has wheedled its way into the tight North Carolina senate race this week, spending $117,000 on postcard mailers alone to support Republican candidate Thom Tillis. Tillis, the current N.C. house speaker, was an integral voice in the fight against the lawsuits which struck down the anti-gay marriage Amendment One earlier this month; he challenges democratic incumbent Kay Hagan. While the mailers appear to be fair game, a television ad run by the organization is somewhat more problematic.
Buzzfeed reports:
Additionally, NOM will be running a television ad in support of "traditional marriage" during the 6 p.m. news broadcast in Charlotte, North Carolina. The ad will run three times, at a cost of $8,400. The agreement form for the ad states that it is not communicating "a message relating to any political matter of national importance," does not list any candidates referenced in the ad, and is signed by Frank Schubert — the man behind ads supporting California's Proposition 8 and similar measures elsewhere.
As Buzzfeed noted in an update, the advertisement does explicitly support Tillis over Hagan and therefore has everything to do with a "political matter of national importance."
"Same-sex marriage has been imposed by a federal judge hand-picked by Kay Hagan," the voiceover states. "Thom Tillis is fighting for marriage. Kay Hagan and her judge betrayed us. Send them a message: Vote Thom Tillis for U.S. Senate."
Sounds as though NOM reneged on their ad agreement big time. 
Check out the advertisement, AFTER THE JUMP…