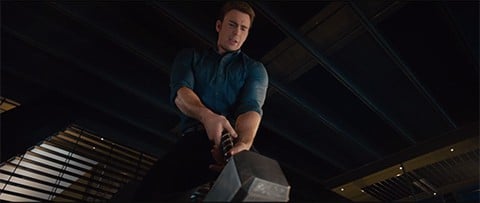 Following Marvel's announcement of nine upcoming films in its superhero franchise, the studio debuted a new trailer last night for the hotly anticipated Avengers sequel, The Avengers: Age of Ultron. As Business Insider notes, this latest reveal from Marvel "shows the Avengers gang together at a party trying to lift Thor's hammer, Mjolnir, to no avail." The humor on display is trademark Marvel through and through.
Watch as the boys compete to see who can lift Thor's hammer, AFTER THE JUMP…
And in case you missed it, check out the original trailer released for the uber superhero sequel HERE.