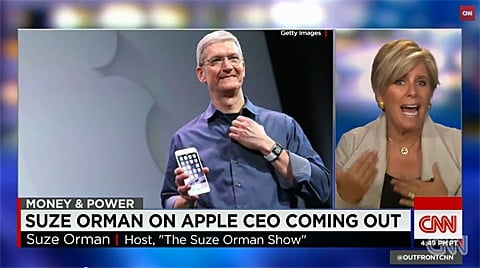 Suze Orman weighs in on the significance of Apple CEO Tim Cook bring the first leader of a Fortune 500 company to come out of the closet.
Says Orman:
"Tim Cook's coming out publicly will be the door opener for a lot of other people that so want to come out but they're just afraid to do so."
But more illuminating is when Orman talks about being pushed out of the closet publicly (in a 2007 interview)in the NYT:
"What was so sad about that interview that was done by Deborah Solomon is that was the time, and the interview was really supposed to be about my book that was coming out called Women and Money which was a really important book. Now she's announcing to everybody that I'm gay and what I didn't want was for people to think that I had staged that! I didn't want them to think that it was a marketing thing, and I never thought that I was in the closet. I've only ever been with a woman. Everybody at CNBC knew I was gay. I never hid it."
Adds Orman:
"But the truth of the matter is this. I was always afraid of that reporter asking me the question outright – are you gay? And then I would have to answer it because, how would I know how everybody would respond to that? So on some level she did me the biggest favor in my life because it was after that article came out that I was able to stand in my truth in my own power and I became even more successful than I had been prior to that…There was nothing negative that came from it, and the positive thing that came from it was me, and how I felt about myself. And I hope for Tim Cook as well – he's going to feel more powerful, a more powerful person is a better leader, a better leader makes a better company, and I hope it shows up one day in Apple's performance."
Watch the CNN segment, AFTER THE JUMP…