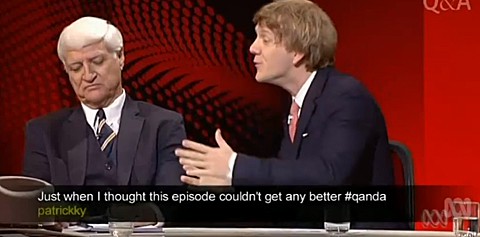 The Q&A show on Australia's ABC network puts punters, politicians, and pundits together in their studio to discuss the issues of the week on live television.
Monday night's show featured Josh Thomas, the creator and star of Please Like Me, alongside homophobic Australian MP Bob Katter.
The fireworks began when Katter, who has denied the existence of gay people in his region of northern Queensland, was asked by an audience members about the mental health issues that young gay and lesbian people struggle with because of people like him.
Watch it all go down, AFTER THE JUMP…
And if, for some reason, you missed our TV writer Bobby Hankinson's excellent interview with Josh Thomas back in August, make sure to check it out HERE.