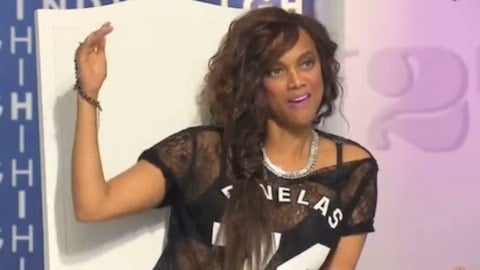 One has to wonder what would possess a person with homophobic attitudes to even think about going on America's Next Top Model, much less joining the fashion and modeling world in the first place, but such is the case with contestant Denzel [pictured lower right].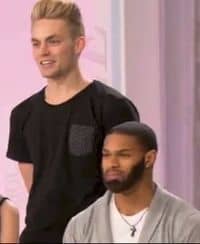 During one of the judging portions of the show, contestant Will showed up in massive 6" patent leather heels, a fashion decision that Tyra questioned him about. Turns out that Denzel had made comments about having to go home and explain how he was beaten by someone in heels, so Will showed up in heels, directly challenging the kinds of homophobic comments he says that he constantly has to endure.
Denzel tried to cover his ass with the "It's just my opinion," gambit, but it did not pay off as Tyra herself called him on his prejudices:
I wanna take you back 50 years and imagine you overheard Will say, "I hope that Denzel guy doesn't win, because if a black guy wins my friends at home are going to say I'm his bitch."
Watch the video, AFTER THE JUMP…