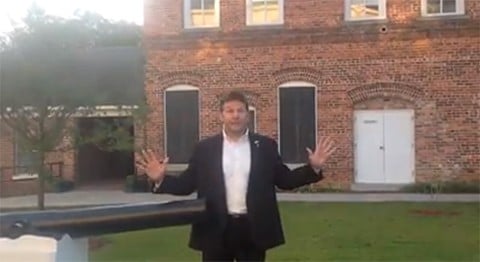 Earlier today, we told you about South Carolina congressional candidate Anthony Culler and his comments labeling gays as "gremlins" and "bullies." Culler also called same-sex marriage a "pestilence." Now, despite the backlash he has received for these remarks, Culler is sticking to his guns, a point he's perhaps trying to underscore by defending his anti-gay views while leaning against a cannon in a new video the Republican posted to Facebook. Culler opens the video with commenting that we are facing the worst "Gremlin outbreak we've seen in 30 years":
I have had all of these bigots calling me a bigot…What we have is that I made a comment that same-sex couples that want to destroy traditional marriage and our way of life–they're gremlins. They're these creatures that are so destructive.
Culler goes on to give a little history about the district he's running to represent, saying,
It's the black district. That's what some people call it…I've got another description for this district. It's the Christian district…The people here…we believe in family. We believe in traditional family. We believe in the way that it's always been. One man, one woman. Government can make up any laws it wants to. It doesn't make it right. Evil is evil. Wrong is wrong…I will stand against every initiative put through for same-sex marriage. I'm absolutely against it.
Watch Culler continue his incendiary hate parade, AFTER THE JUMP…