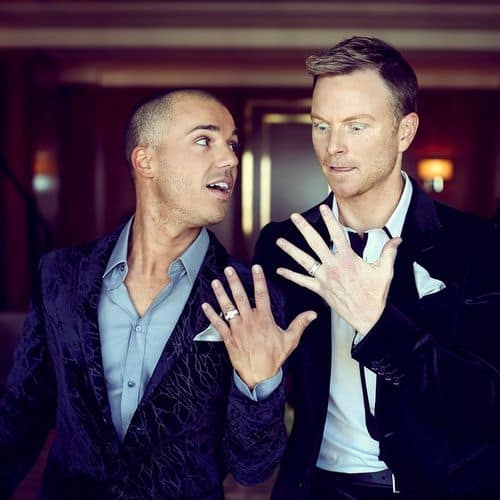 (via instagram)
Longtime readers of Towleroad may recall that back in 2007 an Australian Idol contestant named Anthony Callea made a splash when he came out of the closet. Callea's disclosure was followed soon after with an identical one from Australian actor and singer Tim Campbell.
Campbell and Callea met during an Australian  production of Rent, and shortly thereafter announced that they were together.
Yesterday Callea said that after seven years he and Campbell have married.
Wrote Callea on Instagram:
It's extra special today as @timcampbelltwit and I get to share the news we are married! There's a whole bunch of photos and what went on over 2 days of celebrations in this weeks Woman's Day! Yep….he liked it and definitely put a ring on it! Tune in to both Kyle & Jackie O and Jonesy & Amanda as Tim and I will be joining them on air shortly!
The loved-up couple, who surprised everyone when they announced they were getting married, travelled to New Zealand, where same-sex marriage is recognised, and vowed to spend the rest of their lives together in front of their parents (Cosmo and Santina Callea and Graham and Heather Campbell) and best friends – Rob and Annie Cipressi.
Following on from the intimate and simple affair, the newlyweds flew back home to Melbourne to host a dinner party for their nearest and dearest.
Australia, of course, does not yet have marriage equality.
Congrats.
Watch them performing in Rent together back in 2007, AFTER THE JUMP…
Callea and Campbell in 2007: