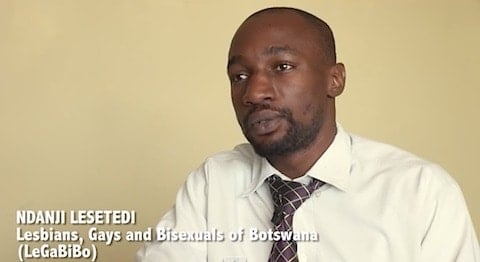 A judge in Botswana, where homosexual sex acts are still criminalized, has ruled that a gay rights group there has the right to lobby against anti-gay legislation and can be officially registered, Reuters reports.
Justice Terrence Rannoane ruled that the Lesbians, Gays and Bisexuals of Botswana (LEGABIBO) would be allowed to register and campaign for changes to anti-gay legislation but reiterated that it was still illegal to engage in homosexual acts.
"In a democratic society such as ours, freedom of expression, assembly and association are important values duly protected by our constitution," Rannoane said.
"The decision to refuse LEGABIBO registration was taken under the mistaken belief that the applicants intended to engage in homosexual practise, which is a crime," he added.
LEGABIBO will now be able to legally challenge the constitutionality of anti sodomy laws especially Section 164 of the Penal Code, which criminalizes same sex relationships. The group has been challenging the law for years with no success, even with the support of Botswana's former president Festus Mogae, who told the BBC in 2011:
"I don't understand it [homosexuality]. I am a heterosexual. I look at women. I don't look at other men. But there are men who look at other men. These are citizens."
Earlier this year, Botswana's HIVAIDS group BONELA produced a brief film featuring members of Botswana's LGBT community talking about the challenges they face in the country.
Watch it and listen to the brave people fight for their rights in Botswana, AFTER THE JUMP…