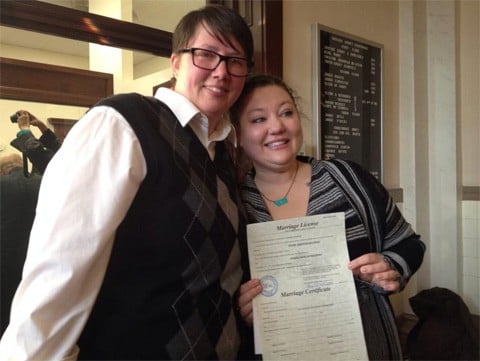 (image via andrea nitschke twitter)
Gay couples have begun marrying in Montana after a federal judge struck down the state's gay marriage ban yesterday afternoon. The first marriage license to a gay couple was issued in Cascade County to Tonya and Angie Rolando (above), one of four couples who were plaintiffs in the case challenging the ban.
The Missoulian reports that couples have begun marrying there as well: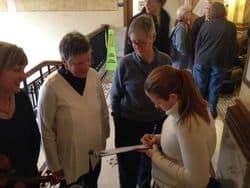 Leslie Burgess and Serena Early have wed in the Missoula County Courthouse, the first gay couple to do so since a federal judge lifted Montana's ban on same-sex marriage.
A staff member for Montana ACLU performed the ceremony for a lively crowd shortly after 8:30 a.m. Thursday. Kileen Marshall is a license officiant, and was on hand to marry a growing line of couples.
Five minutes later, Ally Logan and Carolyn Jones became the second couple to wed. The two said they had waited 10 years for this day.
The actual first gay marriage license issued this morning in Missoula pic.twitter.com/M7gdPfCWJK

— David Erickson (@David__Erickson) November 20, 2014