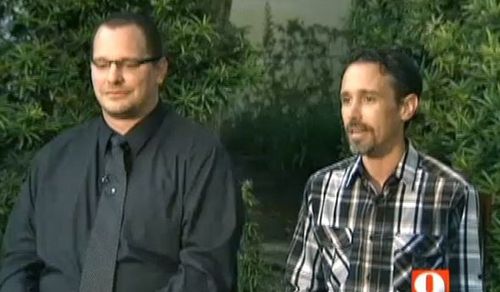 The state of Florida is threatening to revoke a same-sex couple's driver licenses because they obtained them using an out-of-state marriage certificate.
Daniel [left] and Scott Wall-Desousa, of Palm Bay, Florida, have been together for 10 years and were married in New York City.
Earlier this year, both men attempted to get their hyphenated, married name — which appears on their Social Security cards — on their Florida driver licenses.
Daniel Wall-Desousa had no trouble, but Scott was rejected at a different DMV office — based on Florida's constitutional amendment prohibiting recognition of same-sex marriages from out of state, according to a report from WFTV Channel 9.
After an extended back-and-forth with state officials, Scott went to a different DMV office and was able to obtain a license with his married name. The couple then appeared on WFTV, which reported they were one of the first couples in Florida to change their name thorugh an out-of-state same-sex marriage.
However, state officials apparently took notice, and within days of the report airing, the Wall-Desousas received a letter saying their driver licenses will be revoked unless they obtain new ones in their previous names, WFTV reports.
"It informs me and notifies me that my driving privileges will be canceled indefinitely as of Nov. 22," Daniel Wall-Desousa said of the letter.
The couple now says they intend to file a lawsuit. Several state and federal judges in Florida have struck down the state's marriage amendment as unconsitutinal, but those decisions have been stayed pending appeals by Republican Attorney General Pam Bondi.
In Texas earlier this year, a woman was similarly denied a driver license when she tried to obtain one using an out-of-state same-sex marriage certificate. But the woman, Connie Wilson, was later able to obatin a license with her married name using a US passport.
No word on whether Texas plans to try to revoke Wilson's license.
Watch WFTV's initial report, AFTER THE JUMP …