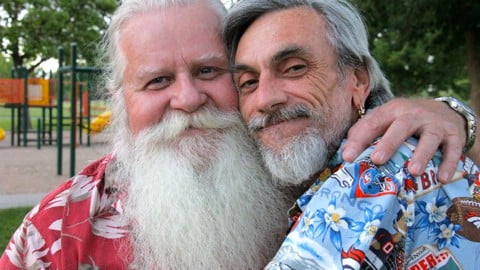 I Am Santa Claus, the new documentary starring the WWE's Mick Foley, chronicles the day-to-day lives of four professional Santa Clauses with the aim of solving a Christmas riddle: "Whose lap is your child sitting on?"
In the case of Jim Stevenson (above left, with partner Alex), the short answer is as follows, according to the flim's KickStarter page: 
Santa Jim resides in Ft. Worth, TX and is the proud winner of "Mr. Texas Bear Round-Up," the largest gathering of hairy, overweight, homosexual men in the country. Although retired, he has seasonal work as a Santa. He is in a relationship with a Denver Colorado man 30 years his junior whom he calls "his special elf."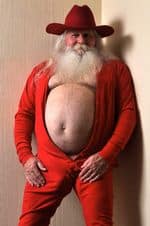 According to Fort Worth Weekly, Stevenson — who won Mr. Polar Bear at the Texas Bear Round-Up in 2001— also models bear erotica and does naked photo shoots for adult film companies when he's not entertaining kids as Santa. (Stevenson is shown at right in a photo from his Facebook page.)
"When I finally found out that there was any such thing as men who liked men, I knew that's what I had been all along," the 73-year-old Stevenson says in the film's trailer, which shows him kissing his partner on a merry-go-round. 
Whether intentional or not, I Am Santa Claus sounds like a recipe for serious anti-gay backlash (cue the pedophilia attacks), and The Mary Sue reports that there has already been some: 
Posts featuring homophobic messages spread to the film's various social network sites. Some comments threatened Mick [Foley], some threatened Jim, and many used slurs that will not be repeated. The blowback got so bad that Mick announced a break from his personal Facebook page, the space where three-fourths of his friends are other Santas who have been incredibly supportive of the film.
WWE's Foley, an aspring Santa Claus who is the star of the film and has been supportive of the LGBT community, comes to Stevenson's defense against anti-gay critics: 
"I am a guy who used to go out of my way to make people dislike me for a career. But this is what puts people over the edge?" Foley said. "I hope people will watch the movie before judging and see the struggle to live up to the spirit and legacy of the red suit, to spread joy to others. They will feel the warmth from Jim."
If there's ongoing or organized anti-gay backlash over Santa Jim, I couldn't find it online. In fact, the reaction among reviewers has been glowingly postiive. 
Iann Robinson at CraveOnline writes: 
The conservative crowd might bristle at a gay man involved in a film about Santa, but that's their problem. Jim is incredibly likeable, a sweet soul with a delightful southern twang, and an affable demeanor.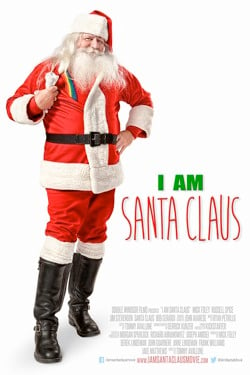 The site My Broken Fiat: A Catholic Mom's Journey includes a disclamer about potentially offensive content at the top of its review, but goes on to say this:  
Now I actually felt my readership cringe at the word "homosexual." Let me make very clear that Santa Jim, the rainbow-suspendered Santa who proudly displays his "Mr. Texas Bear Round-up" medals while parading through a homosexual dance-off, is not a horrible man hell-bent on infecting children with ideas of man-on-man love.  

In truth, he's actually my favorite Santa (after Foley) because you cannot help but feel the supreme and all-encompassing joy he gets from making others happy as Santa Claus. His personality is so genuine, loving and humble that you can't help but want to reach through the screen and hug him close.  
And Larry Gallagher writes at This Is Infamous: 
Jim comes off in the film as one of the sweetest human beings you could ever meet and it is impossible to not be touched by the sentiment he shows towards being able to mean something in people's lives by dressing up as Santa Claus.
I Am Santa Claus, produced by Morgan Spurlock of Super Size Me fame, had a limited theatrical release this month and is now available on DVD and iTunes. It will be available on Netflix on Nov. 25.  
Watch the trailer, AFTER THE JUMP …