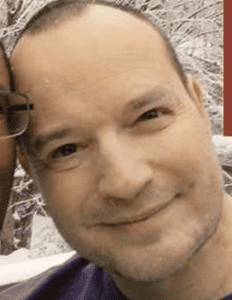 When Stephen Patrick White and Garry Joseph Gupton left a gay bar together in downtown Greensboro, North Carolina, early Sunday, "everything seemed normal," according to qnotes.
White, 46, and Gupton, 26, hailed a cab outside the Chemistry Nightclub and traveled to the Battleground Inn, a hotel about 4 miles away. At about 4:30 a.m., an employee at the Battleground Inn called 911 after he heard screaming and a fire alarm was activated.
White is now in critical condition at a hospital in nearby Winston-Salem with life-threatening injuries, including burns over 52 percent of his body, qnotes reports. Gupton was arrested and charged with aggravated assault after allegedly setting White on fire in what authorities say was an attempt to kill him.
Gupton is being held on $150,000 bond. White was found naked, robbed and beaten inside the hotel room. Gupton's Facebook page indicates that he's interested in women.
Jen Caltrider told Towleroad that White was her best friend in college and was injured in the Iraq war.
"He suffered severe injuries in an explosion in Iraq nearly 10 years ago while protecting a US base as a private contractor," Caltrider said. "He's served on both the Border Patrol and the Air Marshals. He is a good man who deserves all of our love and support right now."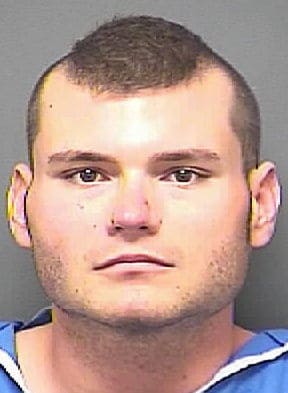 Chemistry Nightclub, as well as another local gay bar, have organized benefits this weekend to help defray White's medical costs. An online fundraising campaign had raised $520 by Wednesday afternoon.
Drew Wofford, owner of Chemistry Nightclub, posted the following on the bar's
Facebook page
:
To All Greensboro: with great sadness and a heavy heart I write this post. Sunday morning our friend and regular customer Steven left Chemistry by cab to a local hotel with Garry Gupton whom he met earlier that evening. A few hours later, Steven was viciously assaulted, robbed and set on fire in the hotel; over 52% of his body is severely burned. This brutal attack has left Steven hospitalized and fighting for his life. Now it's our turn to help. This weekend, on Saturday November 15 the Q will be holding a silent auction from 2 – 6pm to raise money. That night, all of us at Chemistry will be doing our part. First let me say how proud I am of my staff and entertainers for their willingness to help. They have all agreed to donate their pay and tips; Chemistry will be donating the entire door cover, and all Jello Shot sales. Steven has a long road ahead of him but he is a fighter and he is definitely not alone. I think I can speak for all of us when I say that we are all fighting for him. Also I remind you to please use caution when leaving our bar or any bar with someone you don't know. I never would have dreamed something like this would happen here in Greensboro … but let's make sure it never happens again.