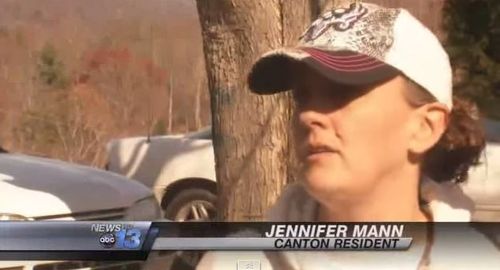 North Carolina Teen Google Maps His House and Finds Anti-Gay Slur on Home Address: VIDEO
A 17-year-old teen found a nasty surprised when he Google mapped his Canton, North Carolina home reports The Advocate. Dakota Bonham, son of Jennifer Mann and Jodie Mcdaniel, switched to street view and found their home address renamed to "Fagits live here." The couple expressed shock and surprise and say that they've never encountered any hostilities from neighbors in the four years they've lived on Hilltop Farm Road. The couple contacted Google to remove the heinous, albeit misspelled slur from the site.
Said Mann:
"My son was on Google Maps at school when he (searched) 'street view' for our address and it said, 'Fagits live here.'"
"I just thought, 'Are you kidding me?' I tried to contact Google, but I was put on hold forever and ever and ever. This day and time, with people and hate, you just can't live your life."
Google finally took action when The Asheville-Citizen Times asked Google to remove the slur on behalf of Mann and McDaniel. The description stayed on the site for at least a month before it was finally removed on Wednesday.
McDaniel previously had a window sticker of two pink deer face to face, and that decal was visible from the street when the Google street mapping car came by last summer reports Asheville-Citizen Times. It's unclear who authorized the change; it's possible that the change was created and authorized through Google Map Maker by fellow peers as Google only moderates "high-profile," features however, Map Maker's guidelines do state that obscene and profane content is not allowed. 
Bonham, who has two other siblings ages 23 and 15, expressed disgust over the discovery.
Said Bonham:
"I was just like, 'What the hell?' It's just kind of messed up. They should kind of grow up a little bit."
Watch Mann and McDaniel's interview with WLOS-TV News, AFTER THE JUMP…