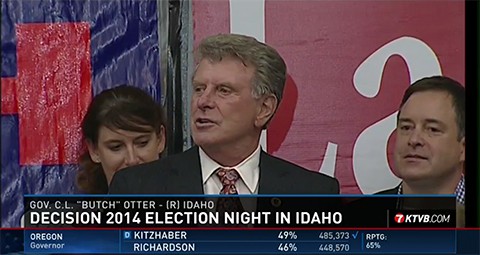 Republican incumbent Butch Otter has been re-elected to Idaho's top office. Otter has been an outspoken opponent of marriage equality despite a ruling from the 9th Circuit Court of Appeals that struck down the state's ban on gay marriage, a ruling that was upheld when the Supreme Court decided not to take up an appeal of the case. Now, re-invigorated by his victory, Otter has reiterated that he will not be backing down from his anti-equality stance. From KTVB:
The newly re-elected governor vowed not to back down in the fight against gay marriage. Otter said he did not believe any Idahoans purposefully discriminate against gays.
"We don't have anything against the gay lesbian society," he said. "But what we do believe in is traditional marriage. We believe in that to the degree that in 2006 we passed by an overwhelming majority a Constitutional amendment, and we don't change our Constitution on a whim."
Otter also defeated openly gay candidate Steve Pankey of the Constitution Party who was only able to muster 1% of the vote. 
Watch a video on Otter's victory, AFTER THE JUMP…