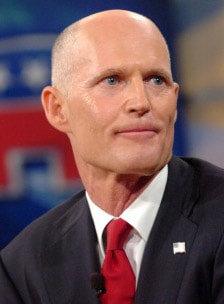 Former Republican Governor Charlie Crist, who was seeking Florida's top office again, this time as a Democrat, lost to incumbent Republican Rick Scott yesterday. The New York Times reports: 
Despite Mr. Scott's lack of popularity among voters, his victory was a testament, in large part, to an aggressive campaign that highlighted Florida's economic turnaround during his tenure while also pummeling Mr. Crist with negative advertisements.
His win, although slight, came with the Florida Republican establishment's full support, something he did not enjoy in 2010 when he beat out Bill McCollum, the party favorite, in the primary.
Still, Mr. Scott failed to capture a majority of voters, which may complicate his efforts to lead a politically mixed state in his second term.
Mr. Crist was unable to overcome months of attack ads, which constantly referred to him as a "flip-flopper" for switching his party affiliation from Republican to Democrat.
Scott's victory means that the fate of gay marriage in the Sunshine State continues to be uncertain, as Scott has made it clear he intends to leave the question of how to handle legal challenges to state Attorney General Pam Bondi, who for her part has been adamant about defending the ban. Scott has meanwhile been unswayed by calls (including one made by Crist) for him to stop defending the anti-equality law that voters passed in 2008. 
Though now a proponent of marriage equality, in 2006 Crist signed a petition supporting a state-wide constitutional amendment banning same-sex marriage.