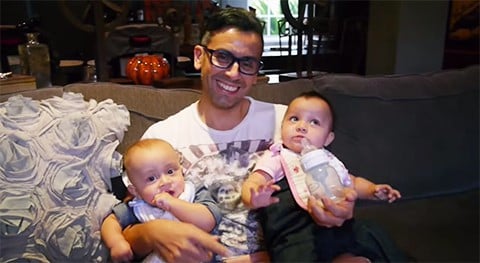 Freedom to Marry has posted a new video that highlights just how important time can be in the fight for marriage equality. The video is a testimonial from Jorge Goytizolo of Ft. Lauderdale, Florida who shares his story of losing his husband Phillip Parrish in May to brain cancer and having to raise their two children without him all while the state refuses to recognize him as Parrish's spouse. Florida currently has a ban on same-sex marriage in place, though it is being challenged in the courts. 
Addressing Florida Governor Rick Scott, Goytizolo implores, "I know it is too late for me – but I ask Governor Scott to lift the ban on same-sex marriage so other couples can not go through the same worries I am going through at this time. Please, let them marry."
Many others have called on Governor Scott to stop defending the state's marriage ban including DOMA plaintiff Edie Windsor and Florida newsman Michael Putney, to name only a couple. Flordia's Attorney General Pam Bondi continues to defend the ban while Scott pretends that the decision on whether to defend the ban is up to Bondi and Bondi alone.
Watch the heartwrenching video, AFTER THE JUMP…