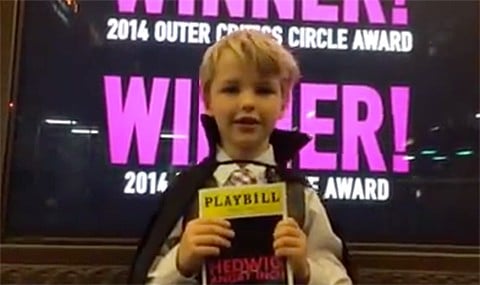 Iain is a pint-sized theatre critic with a budding YouTube channel in which he reviews what he sees on Broadway. He has more than three dozen reviews under his belt.
Back in July, Iain posted a video because he was frustrated that he was being told Hedwig and the Angry Inch was not appropriate for children and that he couldn't see it.
Said Iain: "It's so hard to be a six-year-old kid who LOVES theatre!"
Well, someone finally came to their senses and Iain was finally allowed to see Hedwig, which now stars Dexter's Michael C. Hall. Iain posted his review just before Halloween.
So what did this 6-year-old think about a musical about an East German transgender rock star?
Check it out, AFTER THE JUMP…
On a more personal note, I was able to see Hedwig again last week and suggest that all you Michael C. Hall fans get to the theatre stat because he is brilliant in the role!
I also agree with Iain.