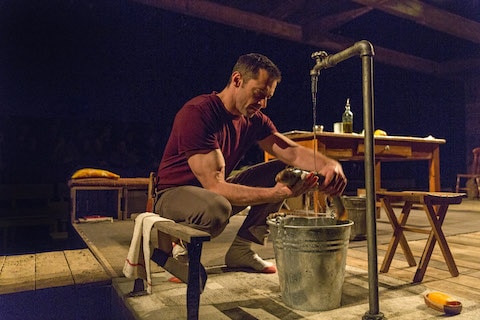 BY NAVEEN KUMAR
Watching a fisherman means a lot of waiting around for something to happen. If that fisherman happened to be a strapping, Tony Award-winning movie star like Hugh Jackman, you may be very pleased to do just that. Sitting perched around director Ian Rickson's intimate production of The River, a poetic but uneventful new play by Jez Butterworth (2011's acclaimed Jerusalem) that opened at Circle in the Square last night, feels a lot like looking at the surface of a stream, knowing the best bits are underneath, just out of reach.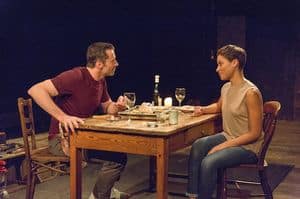 To be fair, events do actually take place in The River, but mostly offstage, outside the confines of this remote, rustic cabin (from the actors' mix of Australian, Irish and British accents, where exactly is unclear), or at another time the audience doesn't see. The Man, as Jackman's character is called in the program, has made a habit of bringing his lovers here to share with them his ultimate true love: fly fishing.
Over the course of the drama's 90 minutes, we witness two such women (played by Cush Jumbo and Laura Donnelly) making this pilgrimage (at different times, of course), their scenes interspersed though their storylines follow the same path. How many women there have been, when they came or which came first remain open questions. We do know that the same tends to happen with each (a moonless, nocturnal trip to the water, fumbling first declarations of love) and that his conversations with them are substantively the same (history repeating, uncannily and with subtly sinister undertones).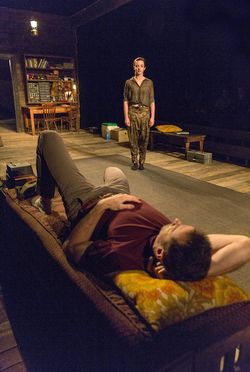 There is, naturally, much passionate talk about fishing, much of it made to sound very compelling, thanks to a vivid and sensitive performance by Mr. Jackman. If your mind paints pretty pictures, Butterworth's language has no shortage of superfluous color and detail. The Man's passion, though, so clearly coursing through his aquatic oratories, is curiously (and conspicuously) absent in his relationships with both women.
Much like the play's fishing, intimate moments between its characters don't happen on stage; rather, they are referred to and described in the past tense ("Yesterday in this room after we made love"). Onstage, the pairs hardly touch. (He's an island!) Were their desire electric, this could well be hotter than any show of physical affection, but it isn't. This can hardly be blamed on the production's comely actors; both Ms. Jumbo and Ms. Donnelly are fine performers.
If the simplest of the play's many conceits is (spoiler alert!) the women are the fish—migrating past as the man tries to connect with them—watching as they slip through his fingers is actually less exciting than the rush he describes of hooking and then losing hold of a wild trout. 
Recent theatre reviews…
Maggie Gyllenhaal, Ewan McGregor, Cynthia Nixon Open in 'The Real Thing' on Broadway: REVIEW
Straight Couples Adrift on Fire Island in Terrence McNally's 'Lips Together, Teeth Apart': REVIEW
Josh Radnor, Gretchen Mol Open in Pulitzer Prize-Winning 'Disgraced' on Broadway: REVIEW
Matthew Broderick, Nathan Lane and Stockard Channing Open in 'It's Only a Play' on Broadway: REVIEW
'The Curious Incident of the Dog in the Night-Time' Opens on Broadway: REVIEW

Follow Naveen Kumar on Twitter: @Mr_NaveenKumar (photos: richard termine)