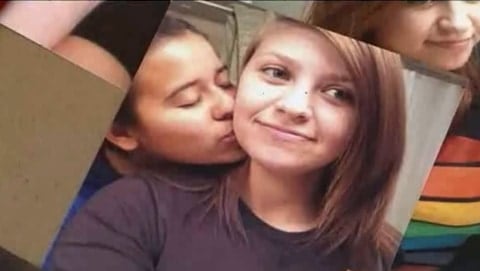 Days after a horrific attack on a teenage lesbian couple in South Texas that left one of them dead, David Malcom Strickland approached mourners at the park where the incident occurred, according to police.
Strickland, who at the time lived near the park in Portland, Texas, outside Corpus Christi, told the mourners that his girlfriend knew one of the victims. Strickland asked the mourners for details about the investigation and was observed searching the grass near the crime scene, witnesses said.
Nearly two years later, Strickland allegedly delivered a letter to a business in Portland in which he implicated another man in the June 2012 shooting that left 19-year-old Mollie Olgin (above right) dead and her then-18-year-old girlfriend, Kristene Chapa (above left), seriously wounded. As it turned out, the man implicated in the letter was a former roommate of Strickland's, from whom Strickland had been charged with stealing firearms in Utah. The letter led police back to Strickland, who was arrested this June and charged with capital murder, aggravated assault with a deadly weapon, aggravated sexual assault and aggravated kidnapping in the attack on Chapa and Olgin.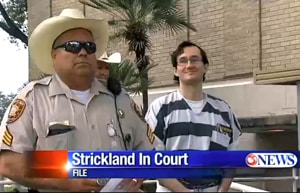 On Friday, with Chapa and about 20 pro-LGBT protesters gathered outside, Strickland made an appearance in court. The protesters carried rainbow flags and signs suggesting the incident was an anti-gay hate crime. but San Petricio County District Attorney Michael Welborn told The Corpus Christi Caller-Times he doesn't believe it was motivated by anti-gay bias. 
"No, we are not calling it that (a hate crime). We have found no evidence that this is a hate crime," Welborn said.
Watch KIII-TV's report, AFTER THE JUMP…
Welborn told KZTV Channel 10 the publicity and the presence of the LGBT protesters — Strickland wore a bulletproof vest and was led in through a side door — could ultimately cause the trial to have to be moved.
"When we have instances like what happened today, the courts start looking very strongly at whether we need to transfer the case to another county," Welborn said.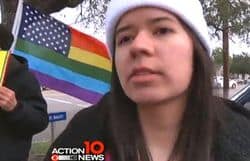 Chapa, who suffered a gunshot wound to the head and is still undergoing rehab, said the rally was an important show of support.
"With all this court, it really opens old wounds, you know, and both the families are suffering," Chapa told KZTV.
One man, reportedly a friend of Strickland's family, filmed the LGBT protesters and reminded them that Strickland is innocent until proven guilty, according to a report from KIII-TV. Chapa's sister, Patricia Hernandez, told the man he didn't know the evidence in the case. 
While much of the evidence hasn't been made public, an arrest affidavit said shell casings from the crime scene were matched to a gun Strickland owned at the time. Strickland's vehicle also matched the description of the one that dropped off the letter, and authorities traced his cell phone to the area when it was delivered.
The letter revealed details about the crime that hadn't been made public, including the fact that Chapa and Olgin had been forced to duct-tape each other's mouths and eyes, and that their bodies had been stacked on top of each other. Bird-watchers found Olgin dead and Chapa clinging to life the next morning.
When Strickland was arrested in Utah in January for stealing firearms from his former roommate, police found guns, ammunition, condoms, personal lubricant, bolt cutters, pepper spray and a lock pick kit in his vehicle. 
Prosecutors haven't said whether they'll seek the death penalty for Strickland. Even if the incident were classified as a hate crime, there would be no penalty enhancement available in Texas because Strickland is already charged with capital murder, and prosecutors would be unlikely to seek the designation because it could increase their burden of proof.
If nothing else, though, Friday's courthouse rally was a sign that the small LGBT community in remote South Texas hasn't forgotten about the crime, even if the national gay media has.
Chapa, who was left with paralysis on one side of her body, has made a heroic recovery, but a fund to help pay for her ongoing medical expenses has raised just $3,730 of the $40,000 goal in five months.
To contribute to the fund, go here.