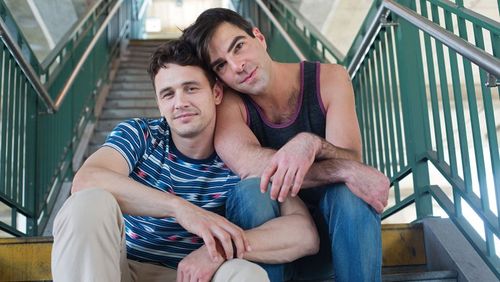 While we've seen various shots posted by James Franco and Zachary Quinto on Instagram, this is the first official still we've seen from the film, in which Franco plays "ex-gay" activist Michael Glatze, writer for the (now shuttered) gay twink magazine XY and co-founder of the short-lived publication Young Gay America, who denounced his homosexuality and became a poster boy for that movement. Glatze also became a pastor and married a woman.
Gus van Sant is executive producing the film with Franco, Vince Jolivette, Scott Reed, Ron Singer and Joel Michaely as producers. It's based on the Benoit Denizet-Lewis NYT article "My Ex-Gay Friend".
Quinto plays Glatze's former boyfriend Bennett. The film also stars Teen Wolf's Charlie Carver.
The shot above appears in an American Film Market preview story in The Hollywood Reporter.