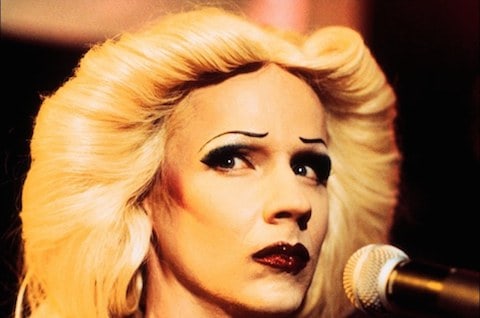 John Cameron Mitchell will take over as Hedwig in the Broadway production of Hedwig and the Angry Inch beginning January 21 at the Belasco Theatre, Towleroad can reveal.
Mitchell, who wrote the musical with Stephen Trask, created the role of the East German trans rocker in the show's Off-Broadway debut in 1998, and immortalized Hedwig on screen in the 2001 film he adapted, directed and starred in. His performance at the Jane Street Theatre made him into a downtown star, and the acclaimed film launched him into cult fame, earning him Best Director at Sundance and a Golden Globe nomination for Best Actor. 
The show's creator will step in at a time when Broadway box office usually dips, giving the show a surge in sales over his eight-week run ending in March, but he said he's been considering returning to the stage since the production geared up last spring. "To be honest, it's a great excuse to get in shape," Mitchell says. "The people who love Hedwig love it forever, so there's a responsibility to doing this right and being honest on stage. I'm excited about reuniting with those people—the last 15 years of their lives will inform the show as much as the last 15 years of my own." We spoke to Mitchell about his experience writing the show, making the hit film and reentering the world of Hedwig next year.
Stay tuned for a revealing Q&A with Mitchell on Towleroad shortly….
The current Broadway production of Hedwig and the Angry Inch, directed by Michael Mayer (Spring Awakening, American Idiot) won Best Musical Revival at this year's Tony Awards, and took home awards for its original stars Neil Patrick Harris and Lena Hall. Mitchell will take over for Michael C. Hall, who's been performing the role since October 16 and will depart on January 4.