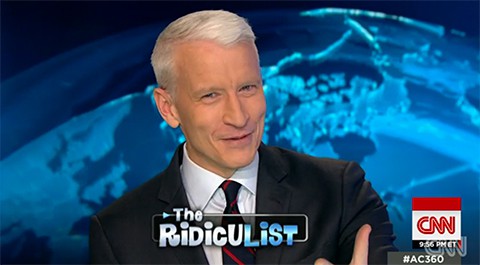 "My boo" Anderson Cooper was caught unawares Monday night when he ended up on his own "RidicUList", a list devoted to ridiculous things and people in pop culture.
What heinous crime did Anderson commit that earned him such a notorious distinction? The purchasing (and frequent use of) a basil scented candle in his office that his co-workers say smells like "Woodstock Vomit."
Anderson defended his candle, saying he bought it because he was told he smells. In particular, he was told his jeans smell because he does not wash them (something the folks at Levi's and GQ have endorsed for the general wearer though given Anderson's extensive world travels to war zones and disaster-stricken regions, his jeans could perhaps stand a whirl in the Maytag). 
Said Anderson of his candle,
"It is a fancy basy scented candle, I will have you know…I don't know if you know about candles. They seem to cost a lot…I think it smells lovely."
Never fear, though. Anderson will not be bullied by the haters: "Until this show [named AC 360] is renamed anti-candle 360 I will do whatever I want to create a serene frigging environment for my coworkers and myself to enjoy."
Learn more about the candle in question, AFTER THE JUMP…