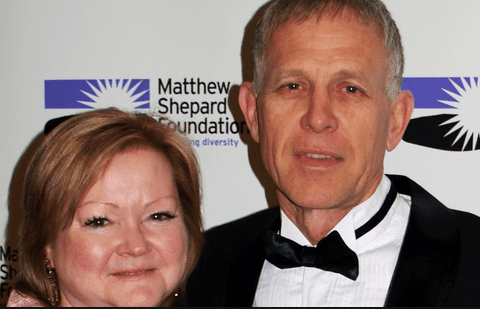 The parents of Matthew Shepard are heading to hostile territory in hopes of bringing a message of tolerance to Russia. Tomorrow, Dennis and Judy depart for St. Petersburg to attend the screening of a movie about their slain son and then move on to Moscow, where they hope to meet with parents of LGBT youth. In a country where gays are consistently harassed for spreading so-called "propaganda", the Shepards hope to bring a message of tolerance on their five-day trip. But given how entrenched anti-LGBT attitudes have become under the rule of Vladimir Putin, they know it won't be easy.
"Putin has made it so unhealthy to be LGBT or an ally," Dennis Shepard told the AP in an interview about their trip. "It will take at least a generation to clean up the mess he's made and get some acceptance."
Their first stop will be a screening of Matthew Shepard is a Friend of Mine at the Side by Side Film Festival in St. Petersburg, an annual event since 2008 which has been promoting LGBT tolerance while drawing criticism from government officials there. But filmmaker Michele Josue, who was a close friend of Matthew's in high school, feels strongly about screening her film in a hostile environment. 
"We've been preaching to the choir," she said of previous screenings in the U.S. "It's important to get our film seen by a community that didn't have access to it."
The film, which has been on the festival circuit this year, makes its NYC premiere tonight at the Doc NYC Festival. You can watch the moving trailer AFTER THE JUMP…