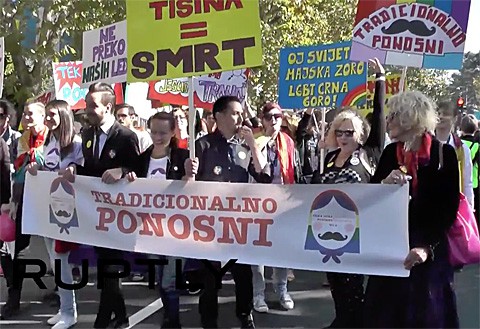 More than 100 activists and allies in the conservative capital of Podgorica, Montenegro held the nation's third LGBT pride march on Sunday, which was the first to take place peacefully. The country's first two marches, held in Podgorica and the coastal town of Budva last year, were both marred by violence from anti-gay and religious extremists.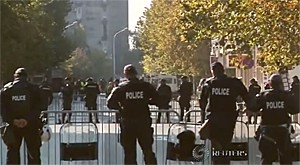 The procession took place adjacent to the government's main buildings.
AFP reports:
Human Rights Minister Suad Numanovic and Podgorica Mayor Slavoljub Stijepanovic joined the parade along with ambassadors of several member states of the European Union, which Montenegro is in talks to join.
Mitja Drobnic, the head of the EU delegation in Montenegro, also took part, telling reporters: "Human rights make part of the rule of law. Without results achieved in the area of the rule of law there is no progress towards EU membership."
He urged Montenegro to "prove through this part of the fight (for human rights) that it meets criteria for membership" in the 28-nation bloc.
Watch footage of the march, AFTER THE JUMP…