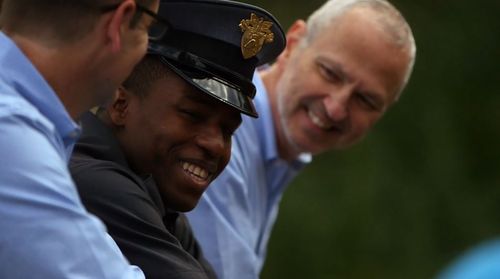 This week's Sports Illustrated has the moving and remarkable story of the captain of Army's basketball team and the two gay dads who raised him. Maxwell Lenox, 22, is a senior at West Point and though he's not the star player for the Black Knights, he's been voted captain two years running due to his exceptional leadership abilities and the way he inspires his teammates. "I'll be lucky if I do half the stuff Max does, become half the leader he is," says sophomore forward Tanner Omlid. "I want to be like him."
Sports Illustrated, which made big news last year with Jason Collins' coming out cover, has posted this amazing story on their website, written by S.L. Price with candor, emotion, and a remarkable sense of how much the world has changed since Lenox's adoption. Lenox was born to a crack-addicted mother in Philadelphia in 1992, at the height of the urban drug epidemic. Just three days later, he was adopted by a couple from North Carolina who were eager to start a family: Dave Lenox and Nathan Merrell. Though they had reservations about the unknown challenges of raising a "crack-baby," the bigger problems turned out to be with Merrell's conservative family who was not too thrilled to find out all at once that he was gay, had a partner, and that they were grandparents to a black infant.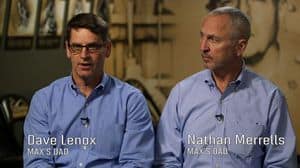 In the touching video which accompanies the story, Merrell struggles to relate how his father denied that Max was his grandchild while his mother, for the first time in her 36-year marriage, actually defied her husband. The whole story is filled with emotional moments like this as the couple faced many struggles raising Max, including Max's difficulties in school and a serious injury that derailed a potential pro career. Now, given how Max has become such a leader, the two dads are thrilled how things have turned out as there's talk their son might make general someday. A truly inspiring story.
Check out a video on Lenox and his dads, AFTER THE JUMP….
And for the full story on Max's incredible journey, head over to Sports Illustrated here.