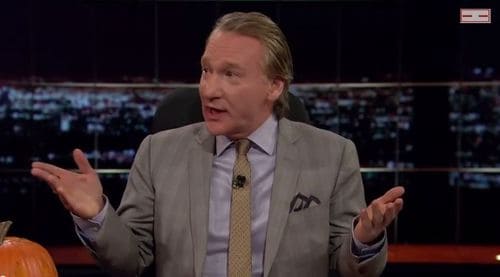 On Friday's Real Time, host Bill Maher continued his on-going discussion about the political corectness of "western liberals" when it comes to ignoring human rights abuses in the Muslim world. 
Joined in the episode by panelists Rula Jebreal, retired general Wes Clark and Maine Senator Angus King, Maher criticized the efforts of some students to get UC Berkeley to cancel Maher's upcoming commencement speech at the school because of what petitioners see as Maher's "racist" and "bigoted" views of Islam. 
"They invited me because it was the 50th anniversary of something that is legendary on that campus – the Berkley Free Speech Movement," Maher said. "I guess they don't teach irony in college anymore."
Jebreal, a self-described "secular Muslim," pushed back against Maher's "free speech" angle.
"It's a platform that doesn't give the opportunity for questions. It doesn't give the opportunity for push-back or even a debate," Jebreal said. "It's a monologue, not a dialogue. These same students feel offended [by] your views of Islam…and they said it clearly in their declaration, said the generalization perpetrates bigotry."
To which Maher countered, "Can you be gay in Gaza? And live?"
Watch the debate, AFTER THE JUMP…