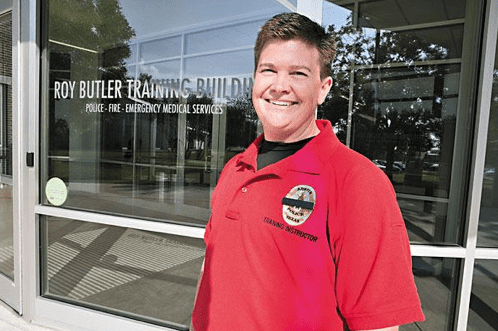 Last month, the Austin Police Department welcomed its first openly transgender officer. However, a widely overlooked footnote to the story of Senior Officer Greg Abbink (above) was that he had to pay for his surgery out of his retirement savings. 
Fortunately, that may not be the case for the next city of Austin employee who transitions on the job. That's because Austin is poised to become the first city in Texas to offer transgender-inclusive healthcare benefits to its employees. 
The City Council is slated to consider a resolution Thursday under which the city's health plan would cover primary care, hormone therapy, mental health care and surgical care for transgender employees beginning in 2015. Austin currently does not cover hormone therapy or surgical care for transgender employees, the resolution states. 
The resolution notes that transgender healthcare is widely considered to be medically necessary and that 42 US cities currently cover it including Washington, D.C., Seattle, San Francisco, Portland, Miami Beach and Boston. 
The resolution also states that utilization rates for trans-inclusive healthcare are as low as one in 20,000, and that studies have shown that 85 percent of employers that offer them face no additional costs. 
Nevertheless, the The Travis County Taxpayers Association is opposing the resolution, according to KXAN-TV: 
"The City of Austin — and by virtue of the City of Austin — the taxpayers in the city of Austin, shouldn't be footing the bill for any kind of elective surgery," said Roger Falk, with the Travis County Taxpayers Union. … 
Falk feels city leaders should focus their attention on issues affecting more people.
"It's not our choice, it's not our decision, and it's not a public issue," Falk said. "It's a private issue, and we shouldn't be having to pay for it."
The resolution is sponsored by City Councilmen Mike Martinez and Chris Riley. Martinez is in a runoff for mayor on Dec. 16.
Watch KXAN's report and read the resolution, AFTER THE JUMP…