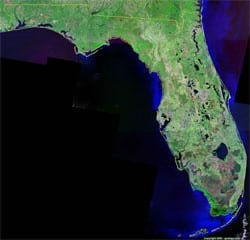 Broward County, Florida Judge Dale Cohen, who back in August struck down the state's ban on same-sex marriage, yesterday ruled in favor of marriage equality and in opposition to the state's discriminatory ban once again. Cohen had vacated his earlier ruling after Florida Attorney General Pam Bondi argued that the attorneys for the plaintiff in the case in question did not give the state enough time to appeal the case. That decision is now moot.
Though Cohen has once again stayed his ruling, a recent decision from the 11th Circuit Court of Appeals not to extend the stay of another ruling against Florida's same-sex marriage ban means that the state's gay couples could begin saying "I do" as soon as January 5. From the Sun-Sentinel:
The case involved Heather Brassner, who wanted a divorce after getting a civil union in Vermont in 2002. But Florida's ban on same-sex marriages prevents the state from recognizing same-sex marriages or civil unions performed in other states. Therefore, Brassner couldn't get divorced in the state. […]
On Monday, Cohen once again ruled [Florida's] ban unconstitutional and put his ruling on hold pending appeal.
Still, that will not affect the swiftly approaching deadline in a federal case in Tallahassee.
Federal judge Robert Hinkle overturned Florida's same-sex marriage ban on Aug. 21, and put his ruling on hold until Jan. 5.
A federal appeals court still needs to hear the case, and could reverse Hinkle's decision, but that will not happen until well after the Jan. 5. The only way the deadline can now be extended is if the full appellate court or the U.S. Supreme Court agrees to extend Hinkle's stay, which lawyers involved in the case consider a long shot.