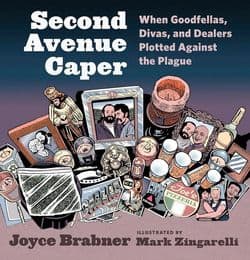 Joyce Brabner's nonfiction graphic novel recounts the early years of the AIDS crisis as experienced by a tight-knit circle of "gay artists, writers, actors, musicians, dyke activists, drag queens," who respond to the devastation of the disease with acts of remarkable daring and generosity. 
Brabner's story centers on Ray, a struggling playwright who earns his living as a nurse. When a doctor he works with offers to hook him up with his "connections in Mexico" in "a potentially beneficial business deal," Ray begins selling pot to his circle of friends. "The NEA isn't giving grants to Avant queers," his partner Ben reasons. "This is our Colombian Arts Council Grant!"
They're careful to sell only to people they know, and we meet Ray's vibrant circle of friends, most of them artists, writers, and performers—among them Brabner herself—as they come to his apartment to buy weed. "Fabulous herb…fabulous fantasies…and fabulous friends," Ray muses, and his apartment becomes the site of "a celebratory, slightly stoned, queer-communal pleasure."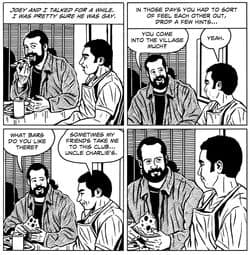 These early pages of the book are exuberantly joyful, as Ray's apartment is packed with friends eating and drinking and smoking together, playing games and singing songs, throwing out ideas for plays and musicals, and above all gossiping, cattily and lovingly. Mark Zingarelli's direct and emotive illustrations capture beautifully the intimacy and trust between these queer outsiders, who create a rich and sustaining family for themselves.
The strength of that community will be tested by the new disease afflicting Ray's patients. He cares for a man who is "the 24th known case" of what would eventually be called AIDS, and as the scope of the crisis becomes clear, he calls on his friends to "locate gay doctors, researchers, people with some medical training," quickly creating a network both for information gathering and for providing care to those caught by the wave of infections that sweeps through Ray's community.
Ray is terrified by the speed with which he loses his friends. "One went so suddenly," he says, "we knew about it only when we learned he had been buried in a potter's grave because no one had come to claim him."
CONTINUED, AFTER THE JUMP…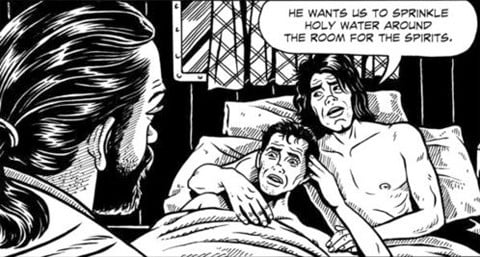 When Ray learns of an experimental Mexican drug rumored to help slow the progress of the disease, he draws on his connections in the drug trade to begin smuggling in doses for his friends. As the need grows, he uses a specially equipped RV to bring larger quantities of the drug. He treats these shipments as he would a theater performance, casting two of his friends as vacationing retirees, their vehicle full of cheap and tacky souvenirs.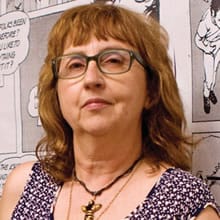 Medication is only part of the service Ray and his friends provide the sick. Ray makes marijuana available for free to AIDS patients who will benefit from it, charging his better-off and healthy customers more. He raises money to pay for dignified funerals. And he takes his sickest friends into his home, nursing them through the final stages of the disease.
Ray is devastated when a research study reveals that the medication he has taken such risks to procure and distribute, Ribavirin, has no real benefit. "It was like that with a lot of the early drugs," Ray says. "We did what we could with the little we knew."
But the heart of the service Ray and his friends provide isn't medication, but the caregiving networks they establish and inspire, in which "Thousands of social rejects took amazing care of each other." It's those networks that, for all the losses Brabner's account records, make this finally a deeply affirming and hopeful book.
"You've been through a war a lot of people don't even know happened," Brabner tells Ray, "and it almost broke your heart." The force of this moving, intimate history lies in that "almost."
Previous reviews…
Shelly Oria's 'New York 1, Tel Aviv 0'
Colm Tóibín's 'Nora Webster'
Saeed Jones's 'Prelude to Bruise'
Michael Carroll's 'Little Reef and Other Stories'
 
Garth Greenwell is the author of Mitko, which won the 2010 Miami University Press Novella Prize and was a finalist for both the Edmund White Debut Fiction Award and a Lambda Award. His new novel, What Belongs to You, is forthcoming from Faber/FSG in 2015. He lives in Iowa City, where he is an Arts Fellow at the University of Iowa Writers' Workshop. Connect with him on Facebook and Twitter.